The data center space has gone through rapid growth and change over the last few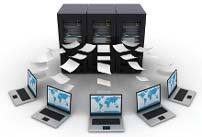 years. The way data centers are being designed, deployed and even thought about today is radically different than just a few years ago. The traditional design criteria, principles and formulas for how best to layout and implement a data center are quickly becoming obsolete. A new generation of data centers is on the horizon.


So, what is fueling this revolutionary change that is taking place in the data center space? Which technologies are pushing data centers into this unprecedented growth cycle now and into the very near future? How will those newer technologies shape the way the data centers look and function? How will the IT personnel deal with this explosive growth and change? Which infrastructure solutions are best suited to optimize and accommodate this change?

The explosion in information generation, processing and storage is one of the key engines fueling much of this change. The new era of "mobile" everything makes this information growth explode as we move forward. What about the new buzz words like Cloud, Virtualization and Mesh Architectures? Will they be part of the future solutions or just passing fads? Will a 1.5x increase in IT personnel over the next 5 – 10 years really be enough to handle all these changes? Come join me as we explore all these questions and more at this year's Data Center Dynamics conference in Atlanta,Ga.

I will present on technology trends, market drivers, data center challenges and current data center solution trends at the event on Friday, February 15, from 12:50 p.m. – 1:30 p.m.

I hope to see you there.