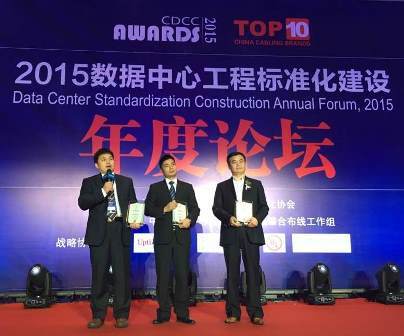 The end of the year is always a good occasion to look back and review what we achieved. We are thankful that 2015 was another good harvest year for CommScope in China, highlighted by several influential industry awards that we recently won.
At the 2015 China Data Center Standardization Construction Annual Forum, CommScope was honored to be awarded the 2015 Top 10 China Cabling Brands, making this the 6th consecutive year that CommScope has won this prestigious award. The Forum is hosted by China Data Center Committee (CDCC), a member of the Professional Committee of Information Communication under the China Association for Engineering Construction Standardization.
As a leader in China's cabling industry with approximately 20 years of presence in the region, CommScope is widely recognized for innovative cabling products and solutions and an excellent partnership network, which enabled CommScope to seal its place among the Top 10 Cabling Brands.
The Forum evaluated candidates from three perspectives including brand value, brand service and brand innovation, which included:
Full portfolio of structured cabling products (including fiber and copper cable)
Durability, scalability and stability of products and solutions
Technical support and after-sale service capability
Owning 100 different projects with more than 100,000 data points as well as the implementation of a domestic engineering project
In addition to the China Top 10 Cabling Brands award, our New York University Shanghai Data Center Case also received the Data Center Excellence Award in the education sector. In that case, prospective cabling planning as well as high-quality installation and deployment successfully supported the smooth IT operations of the NYU Shanghai campus.
As a national standardization organization, CDCC is committed to developing standards for the data center and intelligent building industries in China, as well as promoting market development and technology advancement. The two awards from CDCC are recognition of CommScope's endeavors in China and a significant motivation for us in the future.
In addition to these two major awards, CommScope received other important awards from leading Chinese trade media including:
Top 10 Outstanding Cabling Brands by Electrical Technology of Intelligent Buildings, the top tier intelligent building media focusing on design, system integration, facility management and more.
2015 Top 10 Cabling Brands in China and 2015 Most Influential Brands in China Intelligent Building Market by Intelligent Building and City Information, the comprehensive and authorative technical trade magazine under the Ministry of Housing and Urban-Rural Development of the People's Republic of China.
First place in the Top 10 Cabling Brands by Qianjia.com, the first industrial website in China which specializes in intelligent building and smart home fields.
I would like to express my gratitude to all our team members in China—employees, partners and customers—who have helped make CommScope one of the most trusted and reliable brands in the Chinese market. These prestigious awards are the best proof of our great efforts in 2015, and we will continue to meet and exceed our customer expectations in the coming New Year. Best wishes for 2016!