I recently suggested the analogy of a microwave backhaul link being like a noisy bar in which you cannot get the bartender's attention to order a drink. Your voice is like the radio signal trying to communicate with the core network. The background noise that prevents the bartender from hearing you is the interference threat in a microwave backhaul network.
For a microwave backhaul link, the threat of interference will vary depending on the environment and frequencies available. Urban areas are like the noisiest and most crowded clubs. They are where interference in backhaul traffic is most likely. With the advent of LTE and the expanding number of small cells requiring backhaul, the number of links in urban environments will increase dramatically. This brings a new problem of congestion even when high quality microwave antennas offering Class 3 radiation pattern performance are deployed.
This is where the Sentinel™ Class 4 solution from CommScope comes into its own.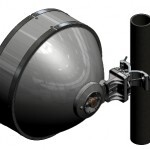 I believe Sentinel is the first product to bring Class 4 performance to the market at an economical price. It is already starting to change the way networks are designed and deployed. Sentinel helps immunise links from co-frequency interference (so the bartender can hear you clearly!), and it also very importantly allows smaller antennas to be deployed in your networks.
Ask yourself how much you are spending on tower leasing costs. Is it true that leasing costs for backhaul antennas are charged by the foot? $100 per foot per month? If this is the case, imagine how your OpEx costs will come down if you can deploy two foot antennas across your network instead of four foot antennas and make better use of the spectrum for which you already paid.
Sentinel not only provides operators with a high level of interference protection today, but it helps prepare your new links and networks for tomorrow's demands. If Sentinel's superior performance is incorporated into the network and link design from the start, it's probable that your initial capital costs and then ongoing OpEx costs will go right down.
I will be speaking at length about Sentinel and new antenna technology possibilities for saving cost and backhaul spectrum at the upcomingLTE North America 2012conference in Dallas. In particular I will talk about the negative effect of side lobe interference on network performance and the opportunity that better antennas give. My presentation will be part of Track 2 on Wednesday, November 14from 3:25–3:45 p.m. Hope to see you there.