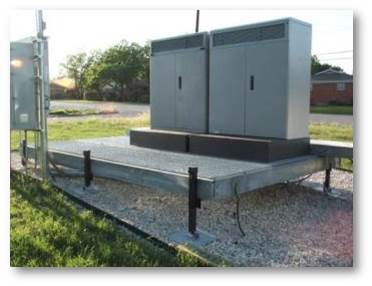 Every good home needs a
solid foundation
, and the same is true for
cell sites
. For many macro sites, the foundation is a tower and antenna mounts that hold the radiating antennas high in the sky. The tower and tower mounts are not the only strong foundation needed, however. The radio equipment
at the bottom of the tower
needs a stable base as well. Changes in wireless network architectures are changing the type of foundations used for those radios. Increasingly,
steel equipment platforms
are replacing concrete pad foundations.
Many factors in the wireless infrastructure industry make equipment platforms popular for supporting the radio equipment at the bottom of the tower. Foremost is the network architecture change that came with LTE. To improve network performance for LTE, network operators started to split the radio functions that traditionally were contained in one base transceiver station (BTS) into two.
The two pieces are a baseband unit that stays at the tower bottom and a remote radio head that is installed at the tower top behind the antennas. The goal is to improve network performance. An unintended consequence, perhaps, is that with a smaller radio now at the tower bottom, a different foundation type is now preferred. That new foundation type is steel.
Steel equipment platforms offer many advantages over concrete. The biggest is speed of deployment. If you've ever poured concrete for a new project, you know how time consuming it is. Besides prepping the ground, setting forms, bending/cutting rebar, plumbing conduit and waiting for the right weather conditions, you have to plan for two inspections and the concrete's cure time after you pour it. The whole process can take over two weeks before you can put something on the concrete.
A steel equipment platform, however, cuts that installation time down to several hours. Steel platforms are flexible, modular solutions that can be combined to make larger surfaces, as needed. Most operators are working with existing sites, so the surface should already be prepped well enough for steel platform installation. Weather shouldn't restrict your deployment schedule because steel doesn't need curing time or special pouring conditions. Articulating adjustable feet enable on-site adjustments, and the platform ties right into the grounding system.
Additionally steel equipment platforms lower the costs involved with future changes resulting from advancement in technologies or increases in capacity. Because the steel platforms are slightly elevated, they allow the cabling, fiber, power and telco to be routed under the platform, protected from falling debris while still being accessible. These attributes lead to a lower total cost of ownership.
Many wireless operators in the U.S. are moving to steel platforms for all these advantages. CommScope's Steel Products team supports them with our comprehensive steel platform product line. I personally have been involved in many of the deployments. If you have any questions about the evolution to steel equipment platforms, leave me a comment, and I'll reply.