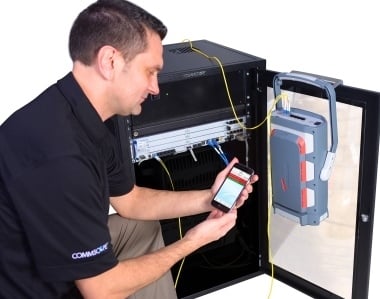 Do you remember when the only way to get your blood pressure measured was going to the doctor's office? A nurse would strap your arm with an uncomfortable cuff, pump air into it, have to find your pulse and then count while looking at that big old dial as the air pressure releases. I recently read about a smart watch that will be able to do all that for you in seconds, without that uncomfortable cuff, and relay the information to your physician.
CommScope's newly announced Optical PIM Tester provides a similar benefit for wireless networks. It will make testing for one of the most common sources of interference in modern networks, passive intermodulation (PIM), a simple task. PIM testing can finally be easily integrated into a technician's site acceptance and preventative maintenance schedule.
The Optical PIM Tester came about from the recognized market need for an improved PIM testing process that better fit remote radio head (RRH) site architecture. Our engineers have solved a problem that previously made testing for PIM labor intense, technically challenging and expensive, and which potentially introduced new PIM in the process.
With the Optical PIM Tester, a single technician connects the tester to the baseband unit via the Common Public Radio Interface (CPRI), all from the safety of the ground. A tower climb is no longer needed just to test for PIM, and a truly active test is conducted by injecting signals into the downlink and looking for PIM products in the uplink (believed to be an industry first via CPRI). The results are displayed on a user-friendly interface accessible over Wi-Fi from a smartphone, tablet or notebook computer and are simple to read (green for pass, red for fail). The test results can also be charted and saved for further analysis off site.
And I almost forgot to mention—CommScope's Optical PIM Tester supports all frequency bands in one unit, eliminating the need for various PIM testing units while providing simultaneous access to multiple sectors. That should bring about a huge saving on testing time and costs.
Check out the press release for more information, and if you're at Mobile World Congress, pass by our booth (Hall 2, Stand 2E46) for a demo of the Optical PIM Tester.