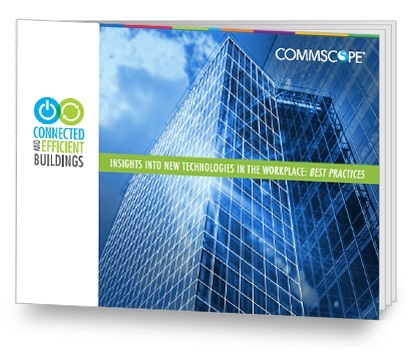 If you were to gather a group of enterprise facility and IT folks together and ask them to define an intelligent—or as I prefer, "The Connected & Efficient"—building, chances are no two people would have the exact same answer. While many people have their own definition, I'd offer a common, indispensable and defining characteristic that a connected and efficient facility should have: automated infrastructure management, or AIM.
An AIM system combines intelligent hardware and software, which gives IT managers a full vision of all the physical connections in enterprise buildings (locally and remotely), instant knowledge of changes and generates updated reports on what devices are connected where and how. It also provides unprecedented visibility and control over their network connectivity that enables IT managers to monitor and maintain their infrastructure automatically and in real time. This will significantly shorten troubleshooting time required in case of downtime, gives limitless control onto the physical infrastructure, improves work order management and better security, and improves change and asset management. Without that "The Connected and Efficient Building" would not exist.
See Also: Connected and Efficient Buildings eBook
In an age where so many enterprise functions, processes and systems are wholly dependent on a high-functioning network infrastructure, 90 percent of IT networks are still managed using a patchwork manual system of spreadsheets, masking tape and sticky notes. Despite having been around for almost two decades, AIM systems are just now getting serious traction on the ground and in the standards body.

More than anything, technology adoption is driven by timing. Ten years ago, the standards and proven infrastructure solutions for intelligent buildings were still very much in the development stage. The business case for AIM was still unclear. Within the last few years, however, the business case for AIM solutions like CommScope's imVision and Quareo have crystalized and become more compelling.
See Also: imVision Testimonials
Today enterprise network managers have begun deploying converged infrastructure networks using standards-based, low-voltage structured cabling that can support a range of devices and data types. I can promise one thing: networks will face a massive growth in the coming years with the Internet of Things (IoT). Software and hardware vendors have significantly extended AIM's functionality while removing some of the cost barriers. As a result, AIM systems have become something of a darling for those responsible for designing and implementing the infrastructure for smarter, more efficient buildings.

All this attention hasn't been lost on the standards bodies either. The ISO and IEC recently approved the ISO/IEC 18598 standard which defines AIM's functional requirements, its intrinsic and extrinsic benefits, and open data exchange framework that enables communications with other building systems.
As I said, technology adoption is driven by timing, and I would qualify AIM is a need. For those responsible for maintaining the complex and highly connected infrastructure of what is named "The Connected & Efficient building," rejoice! Your time has come.
See Also: "Ready, Set, AIM!"
Let me know your views on AIM and what worries you. I look forward to discussing this topic and more in the upcoming event, Smart Buildings Middle East, December 6-7 in Doha, Qatar. In the meantime, you can get more information by downloading CommScope's recently released white paper, "The Business Benefits of AIM in Connected and Efficient Buildings."