Last year, the Chief Information Officers Council drafted the Federal Data Center Consolidation Initiative (FDCCI). The initiative's purpose—reduce the number of data centers used by US federal agencies through closure or consolidation.
The FDCCI also set various objectives including: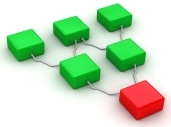 reduction in total cost of ownership


increase data security


pursue more efficient technologies by reducing "real estate"


deploy "green" IT solutions



We at CommScope know how difficult it is to find the right partner to deliver all these objectives. If FDCCI is your mission, then CommScope is your answer.

Our newest brochure—Data Center Solutions for FDCCI—addresses many of the factors listed above. It also explains how CommScope can meet the demanding goals set by the FDCCI.

One benefit to partnering with CommScope is our PartnerPRO™ Network. It is comprised of trained and certified consultants, integrators, installers, distributors and partners that understand the unique needs of government networks and how to best apply our data center solutions to meet the needs of any agency.

Our advisors understand an agency's unique needs and the new demands they face in an era of shrinking budgets and more stringent oversight. CommScope engineers government-grade solutions that meet the most demanding service-level agreement benchmarks and deliver long-term reliability and value.

Isn't it time your agency deploys data center solutions from a capable partner who complies with the FDCCI?