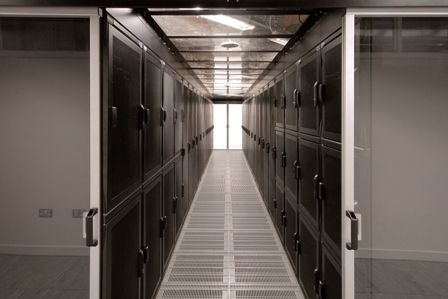 Critical to maintaining a flexible and productive data-centric environment for federal entities is making sure information is available at the point-of-need. At the core of the information system is the data center, and there are three solutions that can enhance and upgrade a data center faster than you may have thought possible.
Traditional brick-and-mortar data centers can take up to 36 months to build and deploy. In the meantime, your federal information needs will continue to evolve rapidly along with the latest technologies and data handling techniques. That means the data center you're building today might be obsolete before it is brought online.
One way to solve this issue is by deploying a prefabricated modular data center such as the Data Center on Demand (DCoD) portfolio of modular solutions. The Sensitive Compartmented Information Facility-certifiable DCoD offers dramatic, game-changing advantages over brick-and-mortar facilities. Modular data centers allow for engineering freedom, scalable capacity-on-demand and energy-saving cooling efficiencies with an average partial power usage effectiveness as low as 1.06.
In support of data center requirements for better power savings and management, intelligent lighting may also be deployed. The Redwood building intelligence platform offers one of the most advanced LED lighting solutions on the market. The lights are deployed over low-voltage, unshielded twisted pair cabling with high-density sensors that collect massive quantities of real-time data on temperature, light and motion. Using this information, you can manage lights in both data centers and office facilities much more efficiently, dramatically reducing power consumption. Sophisticated analytics can also help you enhance building design and office space usage based on traffic pattern data gathered from Redwood's sensors.
Let's face it; your data center is the heart of your enterprise. To keep it efficient and productive, you need a plan to maximize its performance today while evolving it to meet the demands of tomorrow. The effectiveness of that plan depends on how much you know about what you have right now. The iTRACS Data Center Infrastructure Management (DCIM) platform offers a holistic, end-to-end two- and three-dimensional view of your entire physical ecosystem. You can manage and optimize capacity, availability and efficiency across both IT and facilities infrastructure including assets, space, power, network ports, cooling, and network services.
If you are in the federal or government network arena, then you'll be glad to know these three CommScope solutions will be showcased at Booth 4033 during the 2015 AFCEA Defensive Cyber Operations Symposium next week (June 16-18, 2015) in Baltimore, Maryland. Our experts will be on hand to discuss the complex pressures of federal initiatives, the flexibility required to adapt as mission objectives evolve, and the long-term perspective and commitment needed to ensure total success.
Are you ready to evolve your federal infrastructure?