I have some dirty secrets to air. Often times I find writing blogs are the best way to come clean. I posted a few blogs this year, so I go again.
About six months ago I had to look up DCIM (data center infrastructure management) on Wikipedia because I didn't know what it meant. I still am working on a definition that I feel comfortable with.
At first, I thought it was just me; however, I don't think I am alone in my confusion haze. I can't seem to find one person who defines DCIM the same way. In my humble opinion, this is because of a couple of key factors.
Factor No. 1
The pressure placed on organizations is tremendous to keep-up with exploding data center capacity demands and provide critical business services with little tolerance for error. The more we ask of our data centers the more massive and complex they become. It is because of this that we are seeing a wave of new companies entering the market all promising to help "manage the infrastructure." For this reason, we have both power monitoring software and asset management software firms using the same generic "DCIM" category—right? Yes; however, is it confusing (especially when we add other software functions).
Factor No. 2
Any rapidly changing industry is going to go through a period of confusion when the old players diversify and new players come on the scene. All bets are off on terminology until the clear leaders are chosen and industry standards are set. My suspicion is that over the next few years (via mergers and acquisitions) we will see a few leaders emerge as clear "DCIM" category leaders. When this happens, the term will have a bit more structure and definition based on what these leaders do and how they do it.
In the end I am alright if the term DCIM stays high level and carries a cloud of mystery; however, I respectfully request that the IT industry sanction organizations who describe themselves as a DCIM provider without more of a description.
This week we are showcasing at Datacenter Dynamics Converged in Chicago with our partnerRedwood Systems. Redwood is one of the new players in the market, making their way in the DCIM space by deploying an industry-first sensor network alongside an LED lighting system. The data that Redwood is able to collect, via their sensors, is helping change the way we view DCIM by turning the information they can collect (i.e., temperature, occupancy, light levels , etc.) into data that network managers can use to make smart data center decisions.
From a CommScope perspective, I love that we get to watch this change from the unique ground-up perspective. Via our SYSTIMAX® imVision™ solution, we are able to provide real-time location based information to multiple players in the "DCIM" space. This additional vision provides value all the way up the chain and additional features and functionality for the data center owner.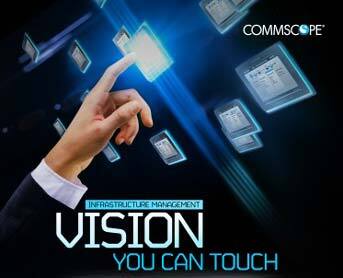 Shouldn't I be able to call imVision a DCIM platform? I don't see why not.