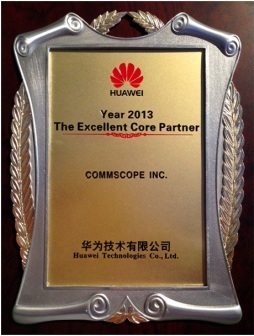 When it rains, it pours. That's an expression that connotes that things tend to happen in bunches, not just as isolated events. For example, CommScope's Asia Pacific team won not just one award recently, but four of them. Yes, four! Due to the exceptional nature of this award bonanza, I am sending a well deserved shout-out to our teams serving the region. Nice work, everyone! It should feel good to be recognized by so many companies at once. For those of you who haven't heard about the awards, here are the details about them.
Huawei Core Partner Award
This one shouldn't be a major surprise to our China team, considering it's the seventh year in a row CommScope has won it. But it's still nice to be recognized by an important customer in the region as a trusted advisor. Huawei awarded CommScope with a major supplier award as a core partner. The award recognizes the company's high quality portfolio of wireless network infrastructure solutions and superior customer service. Huawei presented the award at its recent partner convention in Shenzhen, China. Ben Cardwell, vice president, Global Wireless Sales, said, "CommScope is proud to be recognized for excellent performance considering customer satisfaction is a top priority of ours."
ZTE Global Excellent Partner Award
Here's another one from China and another one that should not come as a surprise. For the eighth year in a row, ZTE honored CommScope with its Global Excellent Partner Award, the company's most important supplier network award. CommScope was the only RF supplier to receive the award at ZTE's recent supplier event in Shenzhen, China. Lynn Frye, Jr., vice president, Global Operations, Remote Fiber Feeder, CommScope, said, "It is certainly an honor for CommScope to receive this award eight years in a row, and a testament to the great account team that provides superior service to ZTE."
Zhejiang Mobile Excellent Vendor Award
China Mobile's branch in Zhejiang honored CommScope and its Andrew Solutions brand with an excellent vendor award. Zhejiang Mobile issued this award based on CommScope's superior performance in designing, supplying and delivering innovative products and solutions for wireless networks, especially base station antenna systems. "The award recognizes CommScope's superior client support and long-standing role in the development of China's telecommunications industry," said Chinnee Tong, vice president, Wireless Sales-China, CommScope.
NetworkWorld Asia Reader's Choice Product Excellence Award
This award comes from industry trade publication Network World Asia, whose readers gave CommScope a 2013 Reader's Choice award for our intelligent building infrastructure. The Product Excellence Awards recognize leading vendors for the innovative technologies and solutions they provide to Asian businesses. CommScope's intelligent building infrastructure solutions blend technology and process improvements to build greater efficiency and environmental sustainability within enterprises. "Customers now demand that their buildings' physical network infrastructure is discovered, monitored and managed - this is exactly what SYSTIMAX Infrastructure Management Solution does well," commented Dr. Ispran Kandasamy, vice president, Enterprise Sales, Asia Pacific, CommScope.