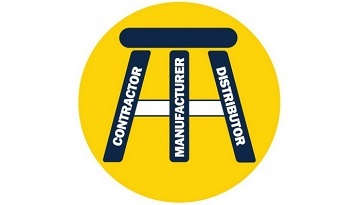 (Note: The following has been submitted as a guest post to CommScope Blogs by Ryan Dupuis, National Data Center Account Manager at LINX. LINX is a member of CommScope's PartnerPRO Network and provider of IT networking solutions in the United States. Opinions and comments provided in this guest post, as with all posts to CommScope Blogs, are that of the author and do not necessarily reflect the views of CommScope.)
The "three-legged stool" is a term used by people who work in the low-voltage industry. The distributor, manufacturer and contractor work together to create a stable platform to support a deal; hence the "three-legged stool" reference. This strategy was created to enhance their chances of winning a project. Customers (i.e., general contractors, electrical contractors and end-users) typically do not know this is an important fact on how the industry works.
CLICK TO TWEET: When considering your next network infrastructure bid, demand the "three-legged stool" model. Linx's Ryan Dupuis explains in this blog.
Imagine the following:
You're building a new office space and have the choice between the following bids:
A low voltage contractor receives the opportunity to bid through a general contractor. After building their scope of work and bill of materials, the contractor sends a list of parts to three distributors asking for the lowest possible pricing. This bid is based highly on price.
A low-voltage contractor receives the opportunity to bid and strategically works with a distributor and manufacturer. Together, they figure out the best solutions to meet the specifications and are fully engaged at every level of the supply chain. They deliver a bid based on the best solutions for the lowest overall cost.
Sadly, the first option is most commonly used. Too many customers don't get the opportunity to sit with the low-voltage contractor (or anyone outside the general contractor) to discuss the overall impact the products will have on their organization. The moment a low-voltage contractor starts substituting products the following dominoes start falling for the organization that inherits the infrastructure:
The IT staff needs training to understand the nuances of a new product. This often costs more than the savings obtained by bidding the cheaper materials.
Additional cheaper products are harder to get after the initial bid. The distributor and manufacturer are less willing to work with the customer to stock cheaper materials because their margins are lower. This may be the largest long-term impact on the customer because it causes delays on future network upgrades.
The customer doesn't have a true partnership after the project is completed and struggles to find training for the IT staff and future-proofing for your network.
When considering your next network infrastructure bid, demand the "three-legged stool" model. The value you receive from a solid manufacturer, distributor and contractor collaboration far exceeds the minor cost savings you receive from the contractors trying to purely win a job through low-bids.