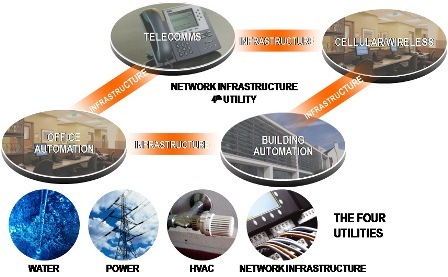 This blog post is part of a series about intelligent buildings based on content from the CommScope Connected and Efficient Buildings e-book.
According to McGraw-Hill Construction, building information modelling (BIM) usage is accelerating, driven by BIM mandates from the UK, US and other government entities. So what is BIM? And how does BIM fit into the drive for connected and efficient buildings?
There is no doubt that the future of architecture and the construction industry is digital, and BIM is the future of design, long-term facility management and building analytics. BIM is a digital model that helps everyone understand the building. BIM reduces errors in transfer of information and helps build better value constructions. BIM will be a key driver for the smart/intelligent green building concept.

Specifically, BIM is a business process for generating, leveraging and managing building data to design, construct and operate the building during its lifecycle. BIM uses 3D, real-time, dynamic modeling software for buildings to increase productivity in the design and construction. The data can be used to illustrate the entire building lifecycle from cradle to cradle – from inception and design to demolition and materials reuse. It includes the quantities and properties of materials (which can be easily extracted from the model) and the scope of works (including management of project targets and facilities throughout the building's life).
Systems, components, assemblies and sequences can be shown in relative scale to each other and, in turn, relative to the entire project. BIM offers a detailed computer visualization of each part and assembly in relation to the total building. As hardware, software and cloud applications herald a greater capability to handle increasing amounts of data and information, the use of BIM will become even more pronounced than it is in current projects.
Currently, BIM models cover the following aspects: architectural, structural, mechanical, electrical and plumbing. If one considers mechanical to cover heating, ventilation and air conditioning (HVAC), electrical for power and plumbing for water, then BIM models already cover three utilities.
Since network infrastructure is the superhighway for many business applications and building operational technologies, it has become the 4th utility for a building. CommScope believes that BIM models should include network infrastructure information, meaning cabling, connectivity and computing resources. With the network infrastructure information now available in the BIM model, it can be imported into an automated infrastructure management (AIM) system.
To facilitate the use of network infrastructure information in BIM models, CommScope's imVision AIM solution provides the capability to discover end devices connected to the network and to identify their location within a building. This real time asset location data, including end-to-end connectivity details, can be used to greatly improve BIM asset information management and the use of BIM in operations management. Additionally, CommScope has linked its relevant product information to the Autodesk desktop tool using the "AUTODESK SEEK" interface.
To learn more about BIM and CommScope's support for this innovative technology, check out the CommScope Connected and Efficient Buildings e-book. Leave me a comment with any questions.