Millennials, the generation born between 1980 and 2000, are connected with technology as no generation has been before. And since they are estimated to make up 75 percent of the workforce and to have over $1 trillion in spending power in the United States alone by 2025, their attitudes about technology will impact the way service providers and technology vendors shape their services and products. This is the third in a series of blogs from millennials around the world opening up on how they use technology.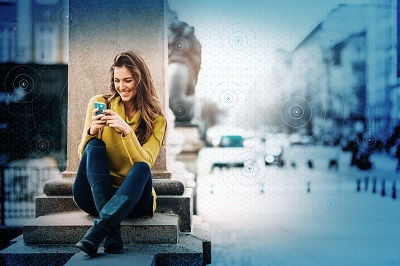 As an early 90s baby belonging to the millennial generation, I fall in the middle of the spectrum when it comes to the way I use technology. While I can't say that I follow the newest social trends like sending selfies on Snapchat or Instagramming my meals, I do have a strong daily connection with the digital world.
I typically check Facebook on my smartphone in the morning to get updates from friends and see what news articles are trending. I get most of my news from Facebook and then use the internet to find more information on those current events. I also regularly check Facebook to read trending blogs and see what my friends are up to.
One of the unique things about being a millennial is that I have had the opportunity to not only make friends with people from all around the world, but keep in touch with them through social media. I have Facebook friends who live in Belgium, Mexico, Honduras, Canada, the UK and many states across the country. Smartphone applications such as Facebook Messenger and WhatsApp are lifesavers because they enable me to communicate with my friends who are traveling in other countries and don't have the ability to call or text on their phones. I have even used Skype to video chat with two friends at once while all of us were in different time zones.
Since I don't have cable, I watch television through Internet applications, primarily Netflix, Amazon Prime, and YouTube. Having a strong Wi-Fi connection in my house is essential because I rely on it for streaming movies or shows, and to use my Android phone to look up quick answers to things online. There is nothing more frustrating than having the Internet go down in your own home
In the workplace and at home, I do prefer email to receiving calls, which is common for my generation. Emailing allows you to avoid the awkward phone tagging and get straight to the point. The only problem is the risk of not getting a response, which is the next most frustrating thing after not having Internet.
I use my smartphone for many different functions every day without even thinking about it. Of course, I send texts and make phone calls, but I also use several apps with different functions. I use Google Keep, to share my grocery list with my husband on his phone, and Life365, an app that lets me share my location with him so that he knows I'm not lying in a ditch somewhere when I'm just running late. My Google Maps app is one that I rely on to get just about anywhere I haven't driven to before, and it's great because it even provides real-time updates on traffic accidents and new routes that might be faster. I honestly don't know how people navigated anywhere before we had GPS systems. Maps? What are those?
Before working at CommScope, I didn't really think about the technology that enables Wi-Fi and data connection, despite relying on it every day. It seemed like such an abstract thing that was handled by people somewhere far away, and I had no control over it. However, when the Wi-Fi goes down or I can't connect to the Internet on my phone, I immediately want to know what can be done to avoid outages in the future. Little did I know that my connection had nothing to do with my lack of skill with technology and much more to do with the physical network infrastructure that was in place at my university, in the local coffee shop, and anywhere else I went. Considering how much my generation relies on this technology, why is it that so few of us are talking about it?
Even though I have grown up using digital technology and have no memory of a world without the Internet, I am still blown away by how advanced our devices have become. I remember receiving my first digital camera for my 15th birthday, and now my smartphone takes better photos. Soon, our mobile phones will have even more capabilities, and Wi-Fi will be accessible anywhere in the world. I look forward to seeing innovation continue to drive technology and how we connect to one another in the upcoming years.
To learn more about how Millennials and Baby Boomers use technology, download the free report highlighting the results of a recent global survey conducted by CommScope.
SEE ALSO: New CommScope report compares the tech lifestyles of Millennials and Baby Boomers