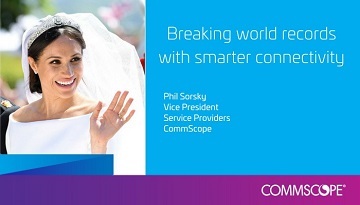 The royal wedding of Prince Harry and Meghan Markle was the biggest day ever for the BBC Online with audiences consuming 11.9 petabytes (equivalent to nearly 3 billion photos on a phone with a 12 megapixel camera) of data, peaking at 2.8 terabits per second when people saw their first glimpse of the bride's dress.
My colleagues from around the world tuned in to what has been coined as the BBC iPlayer's second most popular event. One CommScope employee admitted to live streaming from a sailing yacht during her holiday. Now that's dedication!
Streaming Live: watching 32 nations compete
Outside of cheering for Liverpool Football Club, my favourite pastime involves watching the FIFA World Cup where 32 nations bring their best footballers together every four years. Considering the England versus Wales Euro 2016 football match attracted 2.05 million requests, I expect the iPlayer and ITV hub apps may see record spikes.
These types of spikes in online traffic are yet another reminder that broadcasters must ensure their network is speedy, reliable and consistent across all countries. In fact, 60 percent of 13-22 year olds will not use an app or a website if it's too slow to load, according to 'The Generation Z: Study of Tech Intimates,' a survey which includes participants in eight major cities.
Some 77 percent of broadband fixed subscriptions globally are now served by either fibre or cable networks, according to research by Point Topic. The ubiquitous need for bandwidth in our Internet-centric world has driven landline networks and wireless networks toward converging.
CLICK TO TWEET: CommScope's Phil Sorsky explains that spikes in online streaming traffic are reminders that broadcasters must ensure their network is speedy, reliable, and consistent.
Demand for consumer data will inevitably only increase and network operators must increase wireless capacity. The use of multiple communication modes on a single network offers convenience and flexibility that are not possible with separate infrastructures. Networks can and will merge into one, saving operating expenses (OpEx) and capital expenditures (CapEx) for operators as equipment requirements also become identical.
In support of operators in Europe and across the globe, CommScope is developing connectivity solutions to meet tomorrow's network needs. The company will demonstrate its latest offerings at ANGA COM 2018. Please come say hello at Hall 7, stand E30, if you're Cologne, 12-13 June.