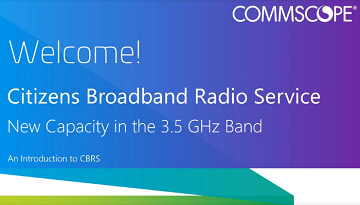 If you are in the wireless industry, chances are by now you have seen or heard a mention of Citizens Broadband Radio Service or CBRS.
But do you really know what it is and how or why it is expected to transform the communications world as we know it? Unless you are living and breathing CBRS, you most likely are not aware of all the important aspects it can offer. There is a lot to take in -- from the unique band usage rules to regulatory stakeholders involved and from the technologies employed to the various use-cases. Like anything else in the wireless industry, there is also no shortage of new acronyms in the CBRS realm. WInnForum has listed 85 different abbreviations applicable to CBRS!
CLICK TO TWEET: Learn everything about CBRS in 25 minutes. Rashid Bhatti previews this new video.
Fear no more. You no longer need to scour the internet to find answers. The team of CBRS experts at CommScope has created a video presentation that will educate you on all the major areas of CBRS in just 25 minutes.
What makes CommScope an authority on CBRS? It's the fact that we live and breathe it every day. CommScope has been in the spectrum management business for over 40 years and is a leading provider of Spectrum Access System (SAS) and Environmental Sensing Capability (ESC) services for CBRS -- the two crucial components serving as the backbone of the spectrum sharing model to be used in CBRS.
After watching this video, CBRS will no longer be a concoction of strange acronyms. Instead, you will be able to see the potential CBRS holds in changing the way we communicate and the endless new opportunities it is going to create. So, grab a cup of cappuccino or chai-latte, sit back, and let CommScope walk you through the A-B-C of CBRS.
Additional resources: