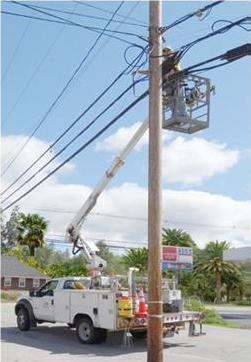 For more than 35 years CommScope's engineers have led the industry with innovative solutions for the MSO market. This is nothing new for CommScope. Across our business units, you'll find solutions that are cutting edge in the industries they serve—broadband (Edge QAM and PON), enterprise (imVision™ and InstaPATCH® 360) and wireless (GeoLENs® and ION™)
Supporting all these solutions, there is a cable infrastructure supporting it—coax and fiber. Cable is the "circulatory system" that delivers the bandwidth our customers and our customers' customers demand. In the cable television industry, many use HFC networks; however, there is more talk about how to evolve from HFC to fiber-to-the-premises. That would recommend deploying new fiber and removing coax cable that is still viable and necessary. So the question is; how do you bridge from HFC network to FTTx? Again, this is where CommScope engineers come into play.
Can you develop a composite coax/fiber product line that combines fiber, microducts and coax under one jacket? The answer is yes, thanks to CommScope.
During this week's SCTE Cable-Tec Expo® in Orlando, our E2O™ solution will demonstrate to the industry this new evolution. This is yet another example of how CommScope puts the customer first in helping them resolve network issues.
E2O (Electrical to Optical)is the result of solving unique customer coax to fiber migration issues by bundling long lengths of fiber, coax and conduit allowing for maximum architecture flexibility and ease of customer specific design. E2O can also minimize construction and capital costs.
To date, our E2O solution has been applied to:


fitting fiber and coax in one sheath where pole attachment agreements limited size and weight (see case study)


commercial applications where fiber was used for high-speed data, but the customer also requested HFC video content


commercial application migration path from single user HFC high-speed data to multiple uses that required future fiber


migration strategy in consumer HFC plant where coax is used now, but where fiber will be deployed in the future


coaxial to fiber drop migration paths


clear installation paths for future fiber to be "blown" into microducts


This development will be on display at our booth (2822) at SCTE Cable-Tec Expo. Stop by to learn more about how E2O can help your network evolve.
Keep your bandwidth pumping along.