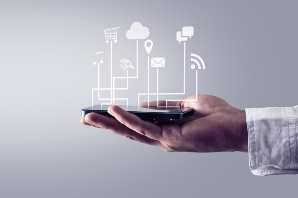 Today, the use of smartphone apps enables us to make better use of our time. For example, waking up in the morning, it is useful to review a weather app so you can choose the right clothes to wear and determine if you will need to bring an umbrella. Many people use a traffic app to avoid clogged avenues to reach their destination on time. So, what makes these apps so effective?
Apps combine a series of data that is relevant to us with updated information in real time. For example, the traffic and weather apps on my smartphone are useful to me because they provided real time temperature and traffic information specific to where I live and drive.
Would it be possible to manage your network infrastructure through a platform that is like an app? Of course! Like an app, the imVision® solution makes it easier to manage your complex IT infrastructure assets to avoid costly mistakes or downtime.
IT infrastructure is difficult to manage because it depends on different sources of information, such as floor plans to locate network points, spreadsheets with details of structured cabling, and port mapping tables in switches. If that were not complicated enough already, these information sources usually are not regularly updated. So when generating work orders, it is common to find surprises that hinder the work of technicians and increase the time required to implement a service.
imVision unifies these sources of information in a single database, updated in real time, so that moves, adds and changes can be handled in a controlled manner without surprises.
Thanks to constant monitoring of iPatch patch panel ports (copper and fiber), it is possible to detect when a patch cord connectivity changes its status without a previous work order. This will update the structured cabling mapping and, if necessary, generate an alert about the event.
The iPatch® patch panel features buttons and lights for each of its ports to create an interface for interaction between the infrastructure and the technicians. With the help of a touch screen located in the controller at the rack, the technicians can access information connectivity for each infrastructure link, end-to-end, receiving the necessary assistance to perform the pending jobs without mistakes.
Communication using simple network management protocol with switches can complement structured cabling information by continuously monitoring the emergence of IP devices, deducing their geographical location and providing basic information for identification such as the computer address, IP address and device name.
Like an app, imVision combines data coming from iPatch patch panels and switches with updated, real-time information relevant to the administration of the network, eliminating blind spots in the infrastructure. With imVision, you can know which devices are connected to the network and how they are connected to achieve a simple and intelligent network management.
If you have any questions about the imVision and iPatch solutions, leave a comment below and I will be sure to respond.