From what my friends tell me, one of the best ways to support a claim about a product's benefits is to validate it with a case study. I worked with Joe Marzin, a technical director at Comsearch, to produce a real-world case study of a microwave backhaul network in Hungary. You can get more details about how we conducted this study and the results in our report, "Innovation in Backhaul Antenna Technology to Deliver Higher Capacity Through Spectral Efficiency."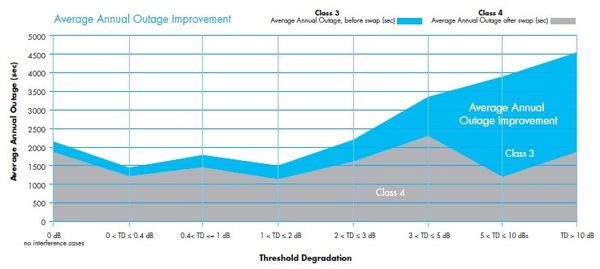 The backhaul network itself was not having many problems—in fact it is a well-designed network. Our mission was to see what would happen to the network's performance if we upgraded the antennas to ETSI (European Telecommunications Standards Institute) Class 4 products. Recent advances in antenna engineering, combined with improved manufacturing processes, allow for Class 4 high-performance antennas offered at more economic prices.
The results of our study showed that even a well-designed microwave backhaul network can realize more than 14 percent improvement in traffic loss (i.e. less outage) by simply changing to Class 4 antennas. We found the availability of every link improved with Class 4 antennas, which we attribute to the overall reduction in noise and interference from multipath reflections and other common sources. More link availability means a decrease in network outages, translating into financial payback for the investment. Depending on the value of the network traffic, among other factors, we estimate the financial gain over a five year period could be more than $3.5 million to the operator. The incremental investment in Class 4 antennas could be recovered in approximately 28 weeks.
If the studied network was designed with Class 4 antennas from the start, the capacity per geographic area, the backhaul pipe size, the tower lease savings and the Quality of Service (QoS) dividends would add substantial financial benefits to those resulting from improved network availability. Check out the full report for more details.
There are various ways to optimize a network to achieve payback from Class 4 antennas, but we hope this case study highlights some of the primary benefits available with this breakthrough microwave antenna technology. Let me know what you think by leaving a comment below.