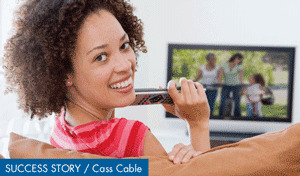 An ongoing cable industry challenge is how to best evolve cable infrastructure to meet their customers ever growing demands. Cass Cable TV in West-central Illinois is familiar with this challenge. In 2009, it wanted to deploy FTTx solutions in its 13-county service area. Cass constructed a new system and rebuilt another, delivering advanced services to its under-served markets.
When Cass decided to upgrade its equipment from 750 MHz to 860 MHz several approaches were examined. Cass recognized the value of the cable-friendly, RFoG-based technology in new and rural builds. They opted to deploy our BrightPath® Optical Solutions (BOS™) product portfolio.
The BOS solution has delivered lower maintenance cost and higher reliability, which translates into greater customer satisfaction, according to Cass.
Thomas D. Allen, chief operating officer, Cass Cable TV, attended the 2011 Independent Show in San Francisco. While on the show floor, he stopped by CommScope's booth and told us how the BOS deployment has been successful for Cass. His comments were included in this previous blog post.
Cass Cable's BOS completed journey is now well documented in our latest case study. I encourage you to read it and post comments below.