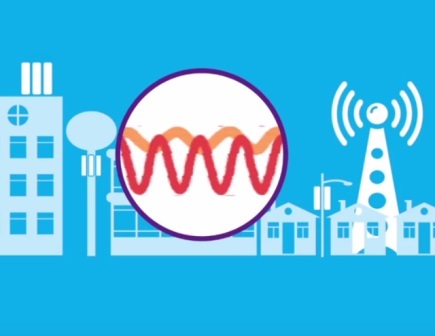 Mobile operators face significant demand for high speed connections not only when users are downloading, but when they are uploading content, too. Operators are also faced with RF environments that are more polluted with multiple frequency bands in any given market. These factors and others are making operators more aware than ever about the growing risk of interference, which can cause serious impairment to network quality.
One network operator CommScope worked with recently was specifically concerned with uplink interference in the 850 MHz band. The operator was already aware of how critical uplink quality is, and had consistently taken actions to limit noise and interference in the network. However, a large portion of their sites still suffered unacceptable levels of interference.
The first actions taken to fix the problem included a rigorous check of the whole RF path including cable jumpers, connectors and antennas in critical sectors. Several RF audits, including hardware checks, VSWR and PIM tests, were run. The operator was able to achieve some improvements after the findings, but high levels of interference continued in some sectors.
At this point, CommScope joined the operator in a full audit to better understand the scenario. Because CommScope is well-acquainted with common interference scenarios, our team pointed out that while there was integrity in the RF path at the majority of sites, an external interference was likely causing many of the problems. We knew that the interference in 850 MHz may be coming from an adjacent iDEN 800 MHz network (see Figure 1).

Based on this information, CommScope offered a plan to develop an interference mitigation filter (IMF) tailored to offset the issue. An IMF suppresses unwanted frequencies while allowing desired signals to freely pass through the filter.
CommScope developed an IMF to meet the specific frequency and e-node B characteristics of this operator's network; then the customer tested it in the field. These actions helped to demonstrate the impact for eliminating interference from the adjacent transmitters into the 850 MHz band. Later, additional testing confirmed the results of the previous tests.
The IMF removed interference coming from iDEN to the 850MHz band, and the benefits have been a 4-6 dB reduction in Received Total Wideband Power (RTWP) (see figure 2). This RTWP reduction leads to a better radio uplink quality and more capacity, enabling the sector to carry more traffic and using less transmission power from the user devices. There also is a reduction in overall interference in the system.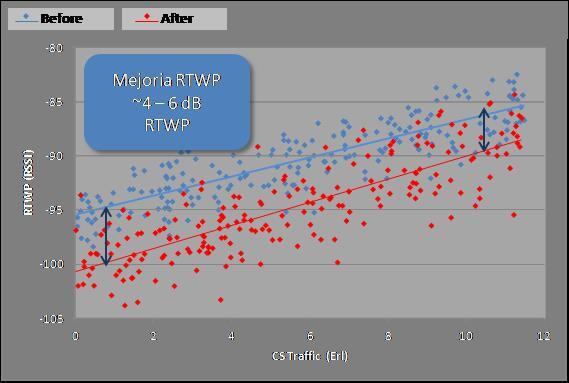 For more information, contact a local CommScope representative, or leave me a comment with questions.