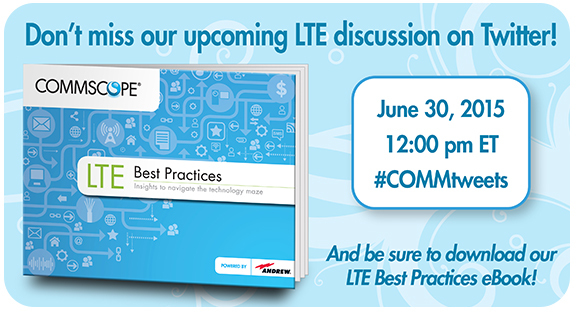 Demand for bandwidth and speed is driving rapid adoption of long-term evolution (LTE) all over the world. GSA announced in April 2015 that 393 LTE networks have been commercially launched in 138 countries. Almost 500 million LTE subscriptions existed by the end of 2014. LTE is fulfilling the need for mobile devices to power not just work, but every part and moment of a person's life.
Transitioning to LTE is no easy feat, though, as it often involves overlaying onto existing 2G and 3G infrastructure. With 2G and 3G networks planned for, designed and built as voice systems, techniques and approaches need to be modified when dealing with LTE, which is primarily a data system. The complexity of implementing LTE over this legacy infrastructure requires collaboration from not just operators and radio OEMs, but installers, suppliers and consultants. With this in mind, how can you spot challenges and opportunities and still accelerate LTE deployment?
Please join us for a Twitter discussion on June 30 at 12 noon EDT that will explore and offer advice around LTE deployment, and further discuss the challenges and opportunities while offering best practice tips.
The session will further discuss major themes outlined in CommScope's recently released eBook: LTE Best Practices, which covered 10 subject areas including noise and interference mitigation, co-siting, passive intermodulation (PIM) avoidance, distributed antenna systems (DAS), small cells and more.
We welcome interested participants from all backgrounds to join the discussion and interact with our panel of thought-leaders from CommScope, including network engineering experts Ray Butler, Mike Wolfe and Colin Bryce; head of wireless sales Ben Cardwell; DAS expert Patrick Lau; and VP of strategic marketing Philip Sorrells.
To join the discussion on Twitter, just follow the hashtag #COMMtweets during the allotted discussion time. Tweet questions using that hashtag, and our experts will respond. Please introduce yourself (name, title and organization) when you join the conversation. We will list suggested questions that we intend to address in a future blog post.
If you have any questions prior to the event or would like to join as a participant, please contact me here or via email at bill.walter@commscope.com.