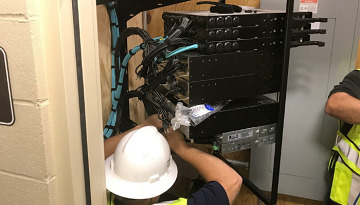 When driving around in a dark parking garage, there are only two real considerations: Are there enough spaces? And is it safe?
Recently, we addressed both of those concerns for AmerisourceBergen, a leading provider of pharmaceutical products, value-driving services and business solutions that improve access to care. Around the world, tens of thousands of healthcare providers, livestock producers, and veterinary practices trust AmerisourceBergen as their pharmaceutical supply chain partner. As a result, the company has grown rapidly, and in 2017 it began planning a large office expansion in Fort Mill, South Carolina.
CLICK TO TWEET: Caitlin Pinkerton explains how the CommScope powered fiber cable system met all of AmerisourceBergen's safety requirements for its new parking garage project.
The expansion included a new parking garage, and one of the primary concerns was safety. AmerisourceBergen specified 23 security cameras and 15 "code blue" emergency phones in the new facility. All the cameras and phones were to be Internet Protocol (IP) and power over ethernet (PoE) capable.
The original plans called for four intermediate distribution frame (IDF) telecom rooms. But in a parking garage where space is the main asset, the thought of having four large rooms taking up extra room was anything but ideal.
CommScope presented a powered fiber cable system as an alternative solution, which aside from a smaller technology footprint, was advantageously efficient and capable of much more reliable operation in an outdoor setting. After a live powered fiber cable system demo, AmerisourceBergen recognized the many benefits of our proposed approach and selected our technology solution.
The garage was completed on-time and on-budget and met all of the AmerisourceBergen's safety requirements. It's now been operational since December of 2017 and is delivering faster and more reliable PoE service.
Following the success of the Fort Mill garage, AmerisourceBergen has since worked with us to deploy a similar solution in its other parking garage in Carrollton, Texas. These garages are a great example of how CommScope is powering progress for some of the world's leading companies as a trusted technology partner.
Let's take on tomorrow, together.
Additional resources: