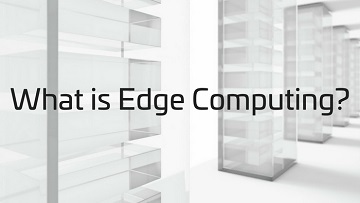 This blog post is part of a series called "CommScope Definitions" in which we will explain common terms in communications network infrastructure.
Edge computing is a hot topic in pretty much all data center or cloud-related conferences; however, whenever I ask how people define it, the answer is always, "it depends." It's a good idea for me to develop my own definition of edge. Edge is the place where people, devices or "things" exchange data with the network. There are a few points in the definition.
CLICK TO TWEET: CommScope's Frank Yang explains edge computing in this blog.
First, edge is where connection occurs. It's the place people, devices or "things" access the network. If there is no connection, it's not edge. Connectivity will play a critical role at the edge. The connectivity can be wireless, fiber or copper in different forms.
Second, the value of edge is data, in many cases real-time data. The majority of data at the edge is processed locally. The rest of the data can be passed to the data center for further compute and storage. If there is no data, it's not edge.
Third, the interactions at the edge go beyond just human beings and the networks. Devices or "things" play important roles at the edge.
This definition does not talk about the location or the size of edge. Edge can be located anywhere (i.e., cell tower, airplane, car, homes, and even your wrist). The size of edge computing facilities, sometimes referred to as edge data centers, can vary considerably. The size of the edge data center can vary from 1-2 kW (1 or 2RU) or less to sub-mega Watts (for example, a few dozens of racks).
So, what is driving edge computing? It's the dynamic balance between the latency caused by physics and the increasing demand of better customer experience. As the network continues to get bigger and is distributed further, the latency increases. This is just physics. On the other hand, the demand for better customer experiences and faster responses is endlessly increasing. Amazon reported every 100 milliseconds (ms) of latency cost them one percent in sales. Similarly, Google found an extra 500 ms delay in search page generation time dropped traffic by 20 percent. During the 2017 Gartner Data Center Conference, Gartner stated 7 ms delay in virtual reality or augmented reality will cause users motion sickness.
Edge computing is expected to provide tremendous growth opportunities in hardware and software. Traditional content, telecom and cloud providers have heavily invested in edge computing. Today, business in many other vertical sectors like manufacturing, retail, etc. started investing in edge computing. Also during the 2017 Gartner Data Center Conference, Gartner predicted 40 percent of large enterprises will be integrating edge computing principles into their 2021 projects, up from less than one percent in 2017.
It's necessary for enterprises to develop an edge computing strategy to achieve higher productivity and better customer experience. What are your thoughts on edge computing?
Graphic: Bob Gill, "Reimaging Data Centers on the Edge – The Edge Computing Roadmap," Gartner IT Infrastructure, Operations Management & Data Center Conference 2017.