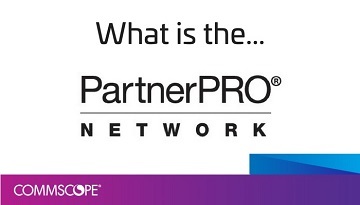 This blog post is part of a series called "CommScope Definitions" in which we will explain common terms in communications network infrastructure.
As a communications infrastructure leader, we shape the always-on networks of tomorrow; but of course, that's only half the equation. Through our PartnerPRO Network, CommScope also provides you with access to the right people.
CLICK TO TWEET: Get an inside look into CommScope's PartnerPRO Network.
The PartnerPRO Network consists of CommScope-authorized local distributors, installers, consultants and integrators backed by the global experience of CommScope and trained to provide local insight that puts our solutions to work for you.
Since the acquisition of ARRIS and Ruckus Networks in 2019, the PartnerPRO Network expanded. Our website highlights these new areas of service:
CommScope Infrastructure, Wireless & Wireline Partners: For partners authorized to distribute, install, design or integrate SYSTIMAX, NETCONNECT, Uniprise, imVision, Broadband Connectivity, In-Building or Outdoor Wireless solutions.
Home Networks & Broadband Active Networks Partners (formerly ARRIS): For solution providers and distributors selling, integrating, designing, installing and supporting Home Networks and Broadband Active Networks solutions.
RUCKUS Networking Partners

:

For partners authorized to market, sell and deliver wired and/or wireless products and services.
On August 9, 2018, we held a Facebook Live to discuss this subject. I interviewed Koen ter Linde, who is now CommScope's Senior Vice President of Global Marketing, and asked him about the PartnerPRO Network, how to locate a partner in your region and how to become a partner.
What is the CommScope PartnerPRO Network?
PartnerPRO Network Partner Brochure
How to become a member of the PartnerPRO Network