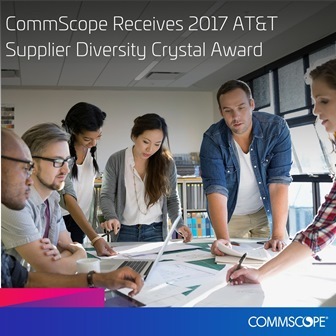 I am thrilled that CommScope has received the 2017 AT&T Global Supplier Diversity Crystal Award. Of the many vendors in the AT&T supply chain, CommScope is one of only 28 suppliers to receive the 2017 AT&T Crystal Award. The company's outstanding contributions supported AT&T supplier diversity goals and initiatives over the past year.
CommScope is being recognized for its commitment and support of AT&T in its goal to work with minority-, women- and disabled veteran-owned companies in its supply chain. Winners of this award utilized 21.5% or more diverse companies in the products/services they provided to AT&T.
"This year marks a significant milestone as AT&T celebrates the 50th anniversary of its Supplier Diversity program by recognizing the suppliers that also demonstrate values of inclusion," said Susan A. Johnson, executive vice president, Global Connections & Supply Chain, AT&T. "We know inclusion drives innovation, betters our products and services, and makes a real difference in people's lives. We're proud of our 2017 Supplier Diversity Award winners."
CLICK TO TWEET: CommScope Receives AT&T 2017 Supplier Diversity Crystal Award

In addition to helping key customers like AT&T achieve their goals, CommScope is on its own journey of bringing more diversity--in all its facets and forms--into our company. Whether it's regarding ideas, abilities, backgrounds or other attributes, diversity strengthens CommScope. We are always in pursuit of sustainable, strategic growth, and diversity clearly contributes to that goal.