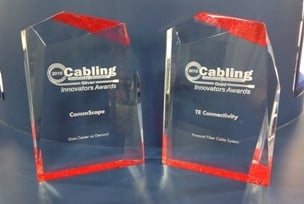 Since the recent acquisition of TE Connectivity's Broadband Network Solutions (BNS) business unit by CommScope, there has been a lot of excitement around how these two great organizations are combining resources and talent. At this year's Fall BICSI Conference & Exhibition, recently held in Las Vegas, it seems they will also get to combine their trophy cases.
During the conference, Cabling Installation & Maintenance held their inaugural Innovators Awards program recognizing some of the most innovative uses and applications of cabling technologies. We're proud to announce two of our solutions took home some hardware.
The Powered Fiber Cable System received the Gold award for its benefits realized by Jade Communications for a large golf course camera project and the Data Center on Demand™ solution was recognized as a Silver award winner for its successful application at the University of Montana.
The solutions were recognized as Gold and Silver-level winners among the best in the industry by judges consisting of cabling and communications system specifiers, designers, integrators and managers with vast professional experience. The classifications are based on criteria including innovation, sustainability, impact and collaboration.
The judging panel evaluated the award nominations for a number of characteristics including:
Innovative approach to project or system design and implementation
Value to the user, which can be measured by such qualities as return-on-investment, loss prevention, or business-efficiency gains
Sustainability, characterized by a project's overall eco-friendliness, its long-term value, lifecycle cost-effectiveness, or other measures
"On behalf of the Cabling Installation & Maintenance Innovator Awards, I would like to congratulate CommScope on their Gold and Silver-level honoree status," said Alan Bergstein, group publisher, Cabling Installation & Maintenance. "This competitive, unbiased program celebrates the most innovative projects in the structured cabling industry. We are pleased to celebrate CommScope's status and recognize their contribution to the structured cabling industry"
Accepting the award for the BNS Powered Fiber Cable System was Kevin Ressler, director of field application engineering and technical assistance centers.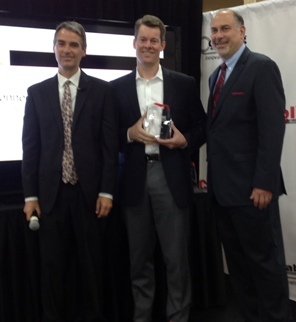 Accepting the Silver award for CommScope's Data Center on Demand solution was Nathan Benton, vice president of technical sales and Jennifer Roback, technical sales director.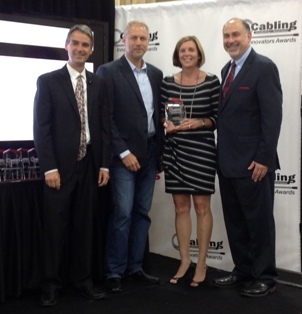 All of the team members from CommScope's Enterprise and BNS business units were excited to bring home the new hardware for the trophy case, but are even more excited knowing that this is only the start of things to come as these two organizations are building momentum toward delivering the highest quality solutions and services to customers around the world.