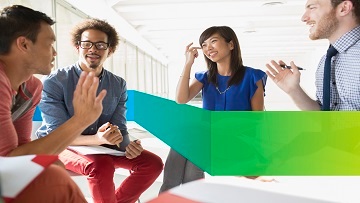 This is part of a blog series from CommScope interns. The series will share experiences from students as they apply classroom learnings to real-world challenges in the workplace.
Plenty of positive things come to mind when I reflect upon my internship experience at CommScope. First, I shared many experiences with my fellow interns and learned several engineering lessons. Furthermore, beyond just learning how to better apply my academic knowledge to solve engineering problems, I also learned how to better navigate a truly professional environment. That part doesn't sound nearly as glamorous, but in some ways, it is more important! I now have an appreciation for how impactful company culture can be.
CLICK TO TWEET: For one CommScope intern, company culture matters.
As a Division-I football player that has had three head coaches in three years, I've experienced the gambit of team cultures and all that they have to offer. I have seen coaches change people and communities for the better, especially now that I'm part of the University of Minnesota's P.J. Fleck's HYPRR/"Row The Boat" culture. What's my point? Even though I'm not a certified expert on team cultures, I have seen enough to know where they can go right and where they can go wrong, and what impact that can have on the whole group.
This brings me back to CommScope. While CommScope's culture is not as loud and noticeable as the HYPRR culture, it is still there and still greatly impacts every member of the company. During my very first day at CommScope, I heard the words innovation, agility, and integrity possibly as much as I hear the phrase, "row the boat" now. Hearing these words is one thing, but what really impressed me is that I continually saw efforts made on both a corporate and personal level to make sure these values were enacted.
For example, my managers were incredibly agile in the way they handled my NCAA-driven schedule that effectively had me working two full-time jobs. Never did I experience a real problem with making my two responsibilities mesh together. Additionally, I was always treated honestly, but respectfully. Sometimes I received feedback or directions that I didn't want to hear, but that I needed to hear. As a result, CommScope and I were made better.
Finally, and most importantly to me, I was given the opportunity to make meaningful innovations within the company. I was given real work that required real thought and had real impact on the company. I was pushed and encouraged to find innovative solutions to real engineering problems.
I hope that it is now clear that without CommScope's strong company culture, my internship could easily have been a terrible experience rather than the truly elite one that it was. I now know that without a well-defined and well-executed culture, no group - be it a company or a football team - can thrive and grow. I truly believe this lesson will continue to serve me throughout my adult life, and I could not be more grateful to CommScope for helping to provide it.