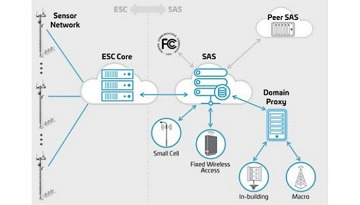 After CommScope's recent announcement with Google about ESC testing, I received a lot of questions regarding next steps in the process to get to commercial deployment for CBRS services.
Soon to arrive will be Initial Commercial Deployment (ICD)… after SAS testing is done.
CLICK TO TWEET: Mark Gibson explains how the CBRS world is quickly moving towards ICD.
The FCC issued a Public Notice last July which described the purpose of the ICD phase:
"[The FCC] will assess and test each conditionally approved SAS prior to final certification. This is intended to ensure that, through robust, rapid testing in a variety of real-world scenarios, the SAS is operating in compliance with Commission rules. ICD will complement the testing done in a controlled laboratory setting by providing a real-world environment to assess certain aspects of compliance with the Commission's rules that cannot be effectively verified under laboratory testing…"
So, the two main purposes of ICD are 1) confirm the SAS complies with FCC rules using real-world scenarios, and 2) test real-world scenarios that might not have been tested in the lab.
SAS administrators filed ICD plans with the FCC in September 2018, describing their respective approaches to a set of requirements. While most of the ICD filings were redacted, we expect ICDs will cover a broad set of CBRS use cases to demonstrate that SASs are both compliant with the FCC rules, and CBRS enables new opportunities such as private networks and IoT applications.
SASs have been in lab testing for a few months and should be wrapped up in several weeks. Once SASs have completed testing, they'll receive reports from the test lab, which will immediately be sent to the FCC and DoD for review. After they've reviewed the test reports, the FCC will issue another Public Notice that opens the ICD window. If all goes as planned, ICD should start in late Q2 or early Q3.
The CBRS world is quickly moving towards ICD, then on to full commercial operation. The future is looking bright.