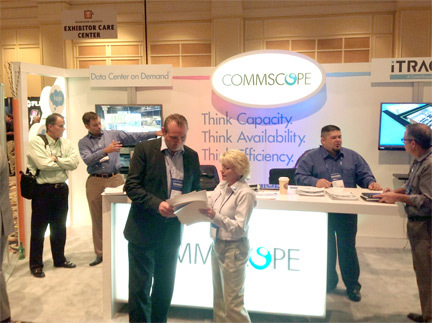 In the midst of all the lights and sounds that are unique to Las Vegas, the Data Center World Conference was the main attraction at the Mirage Hotel during the last week of April. The conference is described as the premier international conference for data center and facilities managers. It is truly unique in its field as it draws upon the knowledge and experience of the more than 3,500 AFCOM members to create an end-user driven program that focuses on providing real solutions for today's data center and facilities managers.
Down on the expo floor, CommScope was in attendance to showcase some of its newer solutions offerings. Data Center on Demand™was featured with the use of a time-lapsed video of a new modular data center being assembled in only a couple of days. The other showcase included a demonstration of the integration between iTRACS data center infrastructure management (DCIM) and imVision™ connectivity monitoring solutions. This integration is known as Converged Physical Infrastructure Management® (CPIM®)version 3.2 and this demonstration included live patching changes made in an intelligent iPatch panel. In turn, the changes automatically updated the CPIM 3-D visualization model featured on a large monitor.
It seems that with the ever-increasing complexity of cabling systems, it is becoming more difficult to accurately plan and predict future capacity needs – this is where DCIM comes into play. We fielded all kinds of questions pertaining to the capabilities of DCIM including:
Server deployment capabilities
Types of information exchanged
Assets that can be monitored
How DCIM can help with capacity planning
Identifying used ports
Available integrations
The overwhelming consensus, throughout the event, was that data center operators need more detailed, real time, accurate infrastructure information to factor into decisions they face on a daily basis. This type of information can also lead to faster and more efficient issue resolution, equating to higher availability. Add to that some very powerful analytics with good cabling and infrastructure information, and you will have a more effective decision support tool. Capacity planning can be driven down to a whole new level of exactness.
All of the questions we were asked and all the conversations that took place were very productive and helped foster some mutually beneficial relationships.
If you attended the AFCOM Data Center World conference, let me know what you thought of the event in the comment section below. If you didn't make it out this year's event, I hope to catch you at next year, April 19-23 back at the Mirage Hotel.