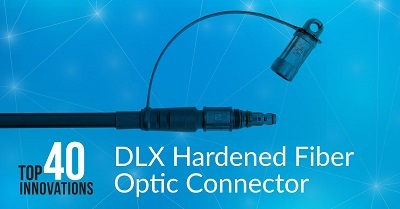 Note: As part of its 40th anniversary observance, the CommScope team set out to identify the top 40 innovations that have come from CommScope (or one of its acquired companies) over the past 40 years. We are unveiling the innovations chosen for the Top 40 on CommScope Blogs through early January. Read more about the overall program and selection process in this November 4 post.
We continue today with our unveiling of innovations—in alphabetical order—that are ranked 11-20. You can see a list of the Top 40 innovations already revealed on our 40th anniversary page. As our 40th anniversary year draws to a close, we hope you enjoy looking back at what we think are our top innovations—ones that have helped build the world's infrastructure of today and tomorrow.
Have an opinion about or connection to any of the innovations? Leave a comment below.
CommScope's Top 40 Innovations—Grouping 11-20
DLX Hardened Fiber Optic Connector
Definition: The DLX Hardened Fiber Optic Connector is a small form factor fiber optic connector that is designed for deployment in the outside plant.
Year of the Innovation: 2009
What is the innovation that CommScope or one of its acquired companies was first in creating?
The DLX's hardened connectivity speeds up FTTx deployments because it reduces, if not eliminates, the need for splicing. The DLX is two thirds the size of other hardened connectors on the market, enabling smaller terminal footprints, and it is easier to mate and offers better optical performance than other connectors.
What was happening in the market that this innovation was needed?
When U.S. network operators started FTTx deployments, most fiber optic connectors were for indoor use – outdoor use required a controlled temperature range and moisture protection. As a result, early fiber connectors used in the outside plant had to be located inside closures or cabinets to protect them from the elements.
The network operator market wanted weather-proof connectors because it wanted to get away from expensive manual splicing. The market required a hardened-connector that could be used without having to place the connectors inside a cabinet or enclosure. The existing hardened connectors on the market presented some challenges due to the larger size and some challenges with optical loss sensitivity to locking down the connectors. This was CommScope's motivation for devising the DLX Hardened Fiber Optic Connector.
How did this innovation benefit customers and the industry?
The DLX Hardened Fiber Optic Connector gave customers a newer-generation connector that offered improved performance and many added features. For example, the smaller size of the connector enables it to pass through much smaller holes in walls, and it reduces the overall size of fiber terminals in the outside plant to make them more aesthetically tolerable. In addition, the DLX Hardened Fiber Optic Connector also enables the customer to deploy the products on the existing network due to its backward compatibility with a variety of adapters to mate with connectors already in place. Also, the DLX Hardened Fiber Optic Connector has a unique advantage in sealing because it requires no lubricant. Fiber ends never become contaminated during the connector mating process. Unlike other hardened connectors, the DLX Hardened Fiber Optic Connector can be mated with one hand, it uses fewer parts, and it shares components with standard and angled physical contact connectors for proven reliability.
Did this innovation act as the springboard for other innovations, and if so, how do they all tie together?
The DLX connector is still in use today. CommScope is investing in further development of DLX products because its small form factor and positive seal are popular with customers.
What is the significance of the innovation for CommScope?
CommScope has become a major player in the outside plant hardened connectivity market, and this development is setting the stage for further innovation as outdoor fiber networks mature.
Related links: