Reliable communication is essential for the emergency service men and women who protect our lives every day. While they expect cell phones to work at all times, emergency services radio transmissions may be hindered within buildings lacking the proper infrastructure. At CommScope, the importance of maintaining contact is our primary concern, and we want to discuss how reliability can be improved within buildings to ensure the safety of service people entering and the people already inside. Whether it's firefighters entering a burning building or police responding to a potentially dangerous situation, communication devices have to maintain stable connections in order to be effective, and certain parameters are being put into place to ensure this stability.
New rules and codes have recently been written to address these concerns. The National Fire Protection Association and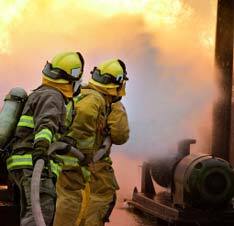 International Code Council created these codes in order to combat issues and ambiguities with indoor radio communication systems. While not required by the federal government, many states and local municipalities are using these guidelines in their own building codes. New systems will ensure radio contact everywhere in a building they are placed. The basic requirements of these codes address the typical concerns regarding communications coverage. With these systems in place, responders will not be cut off from communication if they should enter basements, buildings on the edge of radio transmitter range, or buildings with Low E coated windows.
CommScope intends to build and install these systems so they will not fail when needed, but we also realize budgets are limited. We offer products and full turnkey solutions to integrate and support new communication coverage systems anywhere they are needed. Our engineers are familiar with these systems at all levels, from installation to troubleshooting, so we can provide the best support possible. Part of this initiative is to inform service people of these systems and how they work. With this information, you can use these systems as efficiently and effectively as possible.
If you would like to know more or if you have any questions, we encourage you to attend our panel discussion at the IWCEconference held in Las Vegas, NV on March 14 from 1:15 p.m. to 2:30 p.m. We believe these new guidelines provide the best support for your emergency services communication needs. I hope to see you there.
If you cannot attend but would like to know more, feel free to ask your question in the comment section below.