Many people believe that beauty is in the eye of the beholder. I believe you can find beauty in many things, including cabling. In our industry, we see beauty in cabling and proper installations.
In China, we decided to see just how much beauty there is in aesthetically-pleasing cable installations, so we held our first Best Cabling Installation Contest. We solicited photographs of outstanding cabling installation projects from many of our business partners throughout China on our Weibo and WeChat (QR code below) social media platforms.
We were pleased to see that more than 40 business partners submitted high-quality cabling installation project photographs. Our panel of experts judging this "beauty contest" had their work cut out for them. They reviewed all the photographs singling out the ten best. Then we asked our followers on Weibo and WeChat to choose the winners of Most Popular Cabling Installation and Best Cabling Installation categories.
More than 40,000 votes were submitted for these two categories and the winners are: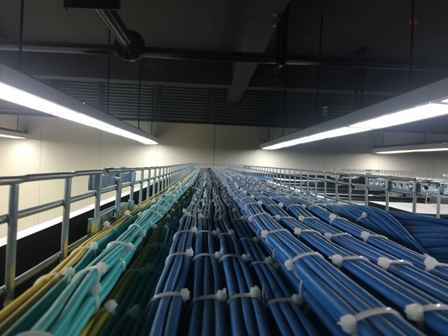 Jiangxi Keyi High-Tech Co., Ltd., which received the Most Popular Cabling Installation award for its "Dispatching Building and Computer Room, Nanchang Power Supply" image.
DDI Cabling Solutions Shanghai Co., Ltd., which received the Best Cabling Installation award for its "Wuxi Host Computer Room, Clearing Center, People's Bank of China" image.
During the three-month contest, many of our business partners provided high quality and enhanced installation standards to their customers. This has always been a goal of ours and the contest also provided us with a platform for displaying outstanding work from our business partners.
We are truly grateful for the all the entries that our business partners sent in to us, and are also grateful to the clients who let them share their installation masterpieces.
Do you have an idea or question about best practices in high quality cabling installation? I encourage you to leave me a comment, and will be happy to reply.
Congratulations to this year's "Beauty of Cabling" winners and we look forward to hosting another cabling beauty contest in the near future.