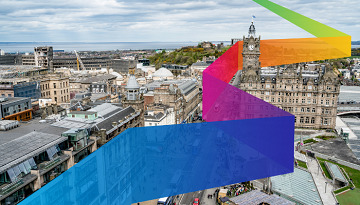 It's no surprise that distributed fiber architectures are gaining popularity in the building. As networks grow to include all types of devices including audiovisual, security, building operational technology, IoT and wireless, there are advantages to pushing your network edge access out closer to the endpoint devices.
Some reasons are:
Density - Hotels, schools and hospitals generally have dense zones or areas of networked devices. Installing high counts of copper cabling to a telecom room up to 100M away may be less efficient than installing fiber to a small network edge switch in a guest suite, classroom or patient room.
Multiple Networks - While all types of devices and systems are connecting to the network, not all businesses choose to manage them as a single network. There are various reasons for this, ranging from security to employee and departmental structure, to roles and responsibilities. Installing fiber from an equipment room for the specific system to a network edge switch located near the system's endpoint devices may provide an efficient way to manage and control access to networks.
Space - As the number of devices and systems increases, existing telecom rooms will become crowded but designing larger rooms may not be feasible. Distributed fiber networks using point-to-point (P2P) fiber optic cabling reduce the space needed in dedicated telecom rooms and capitalize on using non-occupiable space in ceilings and walls.
CLICK TO TWEET: Ronna Davis compares point-to-point fiber cabling and PON for commercial buildings.
One of the challenges to locating switches outside of telecom rooms has been the growing demand for PoE and the lack of dedicated circuits with power backup throughput the building and ceiling spaces. As a standard practice, telecom rooms are outfitted with dedicated power and UPS power backup to ensure switches stay online and the critical devices they are powering stay operational in the event of a power interruption.
But for switches outside the telecom room, DC power microgrids can solve the problem. DC microgrids allow you to install bundled power and fiber cables from your main equipment or telecom room to each switch or endpoint. The power conductors are powered via a DC power source in the rooms while the fiber provides data communications. Additionally, you can save costs and time by installing a hybrid data/power cable in a single pull. There are various suppliers of DC microgrids and the technology is evolving quickly as critical power needs in the building expand.
We know that distributed fiber architectures have a place in buildings, but what type of distributed fiber network is best for the commercial building environment? The advantages of passive optical networking (PON) for service providers are clear, but what about PON for private commercial building LANs? Let's take a closer look.
PON
We've previously defined PON as part of the CommScope Definition Series. To summarize, in a service provider network PON has significant advantages because of the costs to pull miles of additional fiber cable all the way back to a central office. Planning, permitting and accessing public rights of way and installation expenses are most of the costs involved in fiber utility upgrades. The fiber cable cost itself is nominal (see image below).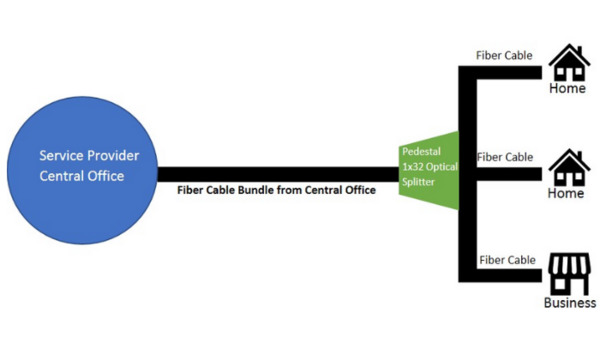 While PON was developed for the service provider market, it can also be deployed in commercial buildings, but there is another architecture that may be better suited for these applications.
Point-to-Point Fiber Cabling
P2P involves installing dedicated fibers from a main equipment room to each edge switch or endpoint throughout a commercial building and close to device endpoints (see image below). The switches can be installed in the ceiling, wall, telecom enclosure or telecom room. You can also locate fiber cross-connects in the enclosure or room if you prefer to run larger fiber cables to consolidation points and then 2-4 strand fiber to the ceiling switch. The diagram below shows the fiber run directly from the switches to the main equipment room.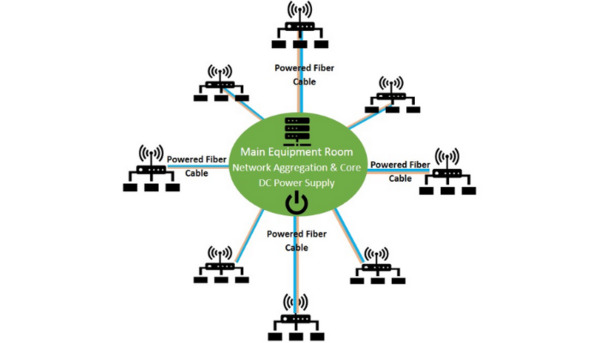 Summary
While PON's advantages can apply to commercial building networks, the physical constraints of service provider networks rarely impact building owners. For commercial buildings and even campuses, the aforementioned issues and costs don't typically apply. Buildings and campuses are small compared to cities, fiber cable runs aren't that long, power is readily available, and the building owner/operator typically has access to conveyances, pathways and telecommunication spaces.
Distributed fiber networks using P2P fiber optic cabling ultimately provide more flexibility and future-proofing over PON fiber solutions in commercial buildings. With P2P fiber optic cabling, you maintain the full bandwidth potential of each fiber strand all the way to the endpoint, you avoid installing optical splitters (which require additional space and create another potential point of failure), and you have the freedom to utilize PON electronics or traditional optical equipment.