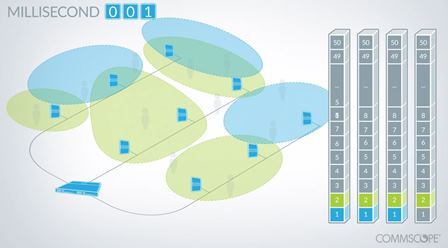 In 2015 the Next Generation Mobile Networks (NGMN) Alliance published a white paper of 5G requirements, codifying for all intents and purposes the objectives of 5G. The paper includes things like consistent user experience, higher speed, lower latency, greater spectrum efficiency and support for Internet of Things (IoT). What remains to be determined is exactly how these benefits will be delivered, and this will be the work of the 3rd Generation Partnership Project (3GPP) and other industry bodies for years to come.
As a step toward determining the "how," mobile operators are proposing architectures and in some cases setting up labs such as Telefonica's 5Tonic, to gain experience with candidate technology approaches.
CommScope recently announced a capability called cell virtualization for its OneCell C-RAN small cell product. Cell virtualization is a way to multiply the capacity of a single physical cell by dynamically dividing it into multiple virtual cells, while avoiding the penalty of border interference and handovers that ordinarily result from dividing one cell into many. As seen in the above figure, with cell virtualization, multiple non-interfering virtual cells are dynamically created within a single physical cell, for added capacity without interference.
OneCell is decidedly a 4G LTE product, but at least at a conceptual level, cell virtualization is consistent with the way that industry-leading operators are talking about 5G network architectures. In a 2013 presentation, China Mobile's Chief Scientist Dr. Chih-Lin I called for no more cells, instead using virtual base station pools to create services that are user-centric rather than network centric. At the 2015 Mobile World Congress, NTT DOCOMO presented the concept of a dynamic virtual cell in which scheduling is coordinated across many antennas. A year later at the Mobile World Congress, Telefonica announced its intention to conduct testing and research on a cell-less radio access network in which "the user is always connected to the same cell."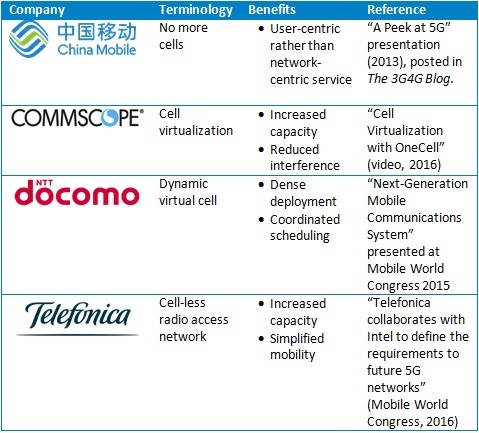 In all of these concepts, as in CommScope's version of cell virtualization, the physical cell still exists, but it no longer dictates the way in which wireless networks deliver services. The same can be said for network functions virtualization. Network hardware still exists but network functions and applications are no longer captive to specific hardware elements. By moving to a cell-less or virtual cell architecture, operators seek to improve network performance, capacity and flexibility while reducing costs and power consumption. Telefonica has recognized the potential for this technology and as a result has invited CommScope to trial OneCell cell virtualization in its 5Tonic labs.
Our initial experience with cell virtualization bears this out. In tests, a single physical cell can consistently provide four to eight virtual cells worth of capacity. Unlike physical sectors, the virtual cells do not create cell borders because they intelligently parse the spectrum between different active users in a way that eliminates border interference. The benefit is a much more consistent experience for all users, no matter where they are within the coverage area. Data rates for users in traditionally high interference zones increase by nearly 300 percent relative to what they would experience under traditional physical cell architectures.
The full definition of 5G—and how to enable it in networks—is still a ways off. The good news is that within 4G there is still plenty of scope to innovate. Operators and subscribers can benefit today from these advances, while also creating a real-world proving ground for the concepts and technologies that will ultimately emerge as 5G.