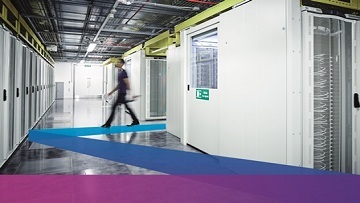 In one of our recent blog posts, "Three Ways the Data Centre Impacts Growth," we highlighted the significant data centre spend across China and ways IT modernization could impact growth.
As data centres gear up to harness IoT technology, the entire data centre market will change. Large amounts of data will need to be analysed and processed in real time. Each data centre will be faced with an increased variety and number of workloads, forcing data centre managers to plan ahead and prepare for higher capacity and bandwidth.
Considering the industry is constantly evolving with network advancements, Ethernet developments and multiple connectivity roadmaps, my customers continuously seek reassurance when it comes to planning for the future. I tell them every data centre has its own story with multiple characters.
During the DCD Hyperscale China in Beijing, I will be sharing my data centre network philosophy which I believe will help data centre owners prepare for future upgrades to meet tomorrow's bandwidth demands:
Know the key considerations in planning for a network upgrade: A data centre strategy that considers factors such as adopting new technologies; the pace of change within the organization; trade-off between initial investment and operating costs; and changes to its IT applications, such as computing and storage architecture, will drive the success of a network upgrade. This could be in-house data centres, multi tenant data centres (MTDC) or private/public cloud provider data centres.
Understand the future developments of network equipment: Analyzing the advantages and disadvantages between singlemode and multimode, and several different MPOs is critical in deciding the right adaptation to support the evolving network strategies. For example, multimode 40G and 100G Ethernet initially support 4x10G and 10x10G respectively, but today a 100G Ethernet can support 4x25G (4 pairs instead of 10 pairs), making it possible to use WDM technology to deploy 40G and 100G Ethernet in a pair of duplex fibers.
Learn the three ways to increase speed: The network cabling design must be able to support the addition of physical channels, increase the efficiency of coding and decoding to double the information capacity, and to implement optical waves within limited physical channels with wavelength division multiplexing technology such as CWDM, DWDM, SWDM.
Respond to challenges with "balance" to find your own migration path: A good network migration strategy will involve finding balance between the cost of equipment and cabling; centralized deployment and distributed deployment; singlemode fiber and multimode fiber; application rate and connection distance; duplex mode and parallel mode; and lastly, high density and maintenance.
Optimizing a network infrastructure may seem daunting and time consuming. CommScope can help you take a proactive approach, building a roadmap which will ultimately free up time to focus on more strategic work.
Before you hop onto the network evolution bandwagon, what is your network strategy today?
---