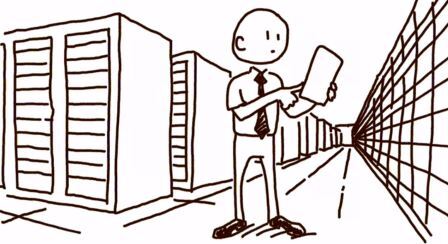 Sometimes I just have to sit back and marvel at man's utilitarian ingenuity, like the lowly, but infinitely flexible, paperclip. Or better yet – duct tape – that indispensable staple of the handyman's tool box. Google "uses for duct tape" and you'll get results including 47 Survival Uses for Duct Tape, 15 Sneaky Duct Tape Hacks for Better Health and 69 Techie Uses for Duct Tape. Engineers and techies, it seems, have a special affinity for the stuff. Re-bind your manuals, use it for cord management. I've even heard of folks wrapping their wrist in a duct-tape splint to protect against carpal tunnel.
But here's the thing; for all its ingenuity, we all realize deep down that a makeshift duct tape fix is temporary. And that, my friends, leads us to the data center—and a far more serious discussion about your cabling strategy.
Your data center either is or will soon be at a critical crossroads. Research shows I/O capacity in the data center doubles about every 24 months. That means more servers, switches and storage capacity, all of which must be connected to each other. How you decide to make those connections—point-to-point cabling or structured cabling—can have a huge impact on your overall productivity, operating expenses and capital expenditures.
When you need to connect a server to switch in a traditional point-to-point cabling design, you run a direct long cable from one to the other; ditto when you need to connect the switch to the device. It's easy as long as you just have a few servers, switches and devices. But, like a duct tape repair job, it's not a permanent, long-term fix.
As the growth in the number of network nodes accelerates, the growing tangle of cable becomes a recipe for disaster. The efficient handling of moves, additions and changes becomes next to impossible, and should a node go down, good luck trying to locate the cable that feeds it. This is why DC standards don't recommend a point-to-point approach; they do, however, recommend a structured cabling approach.
Structured cabling provides a tidy, elegant solution that's easy to manage and maintain. It is designed to scale as you grow, no matter how big you get. While point-to-point provides an easy duct-tape solution, structured cabling is a permanent solution that can carry you well into the future.
CommScope has created a short entertaining video that explains the basic concept of structured cabling and how it supports growth in your data center.
Afterwards, download and read CommScope's new white paper, Datacenter cabling design fundamentals, where we share what we've learned as an industry leader and contributing partner with most of the world's major standards bodies. Who else better to keep you ahead of the game?