As the need for ever increasing bandwidth requirements continue in the data center, so does the ability to quickly and cost effectively deploy technologies to support these demands. This is particularly true as more organizations begin to think more carefully about design considerations to utilize 10GbE technologies in their data centers.
Our product management team listened closely to our customers' needs for cost effective 10G copper solutions that could be cost effectively deployed today while providing an easy path for expansion in the future. The result is InstaPATCH QUATTRO.
So, what is InstaPATCH QUATTRO? InstaPATCH QUATTRO is a factory preterminated balanced twisted pair copper cabling system. This cabling system is composed of the components as shown in the following figure. It can integrate four cabling channels together. In each channel, InstaPATCH QUATTRO supports 10GBASE-T up to 100 meters.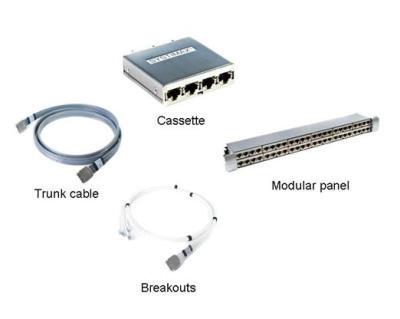 InstaPATCH QUATTRO is easy to work with. Its installation is a snap, and is easy as 1-2-3. InstaPATCH QUATTRO is modular and is easy to scale.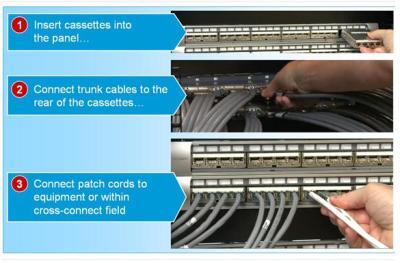 In addition, InstaPATCH QUATTRO provides great flexibility in constructing cabling channel configurations, supporting Ethernet applications, and building network design and architectures. For example, InstaPATCH QUATTRO can be utilized to construct the interconnect configuration that has two connectors per channel, or the cross-connect configuration that has three connectors, and the four connector channel as well. InstaPATCH QUATTRO can provide the seamless migration from 1G to 10G by supporting both Ethernet applications. It naturally provides a physical connectivity to aggregated data rate at 40Gb/s using the link aggregation technology. InstaPATCH QUATTRO can be used to provide network connectivity from server to switch, or switch to switch. It can be applied in IP LAN as well as in converged networks like iSCSI over 10GBASE-T. In one word, InstaPATCH QUATTRO is flexible.
Check out the InstaPATCH QUATTRO solution guide and application guide, and see if InstaPATCH QUATTRO fits your needs.