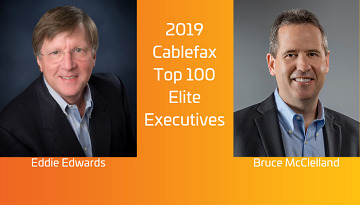 Cablefax recently announced its list of Top 100 Elite Executives across the cable and media industries. Those named to the list represent some of the biggest companies in the industry including:
Comcast
Cox Communications
Hulu
NBC Universal
CLICK TO TWEET: CommScope's Eddie Edwards and Bruce McClelland were honored by Cablefax and named to its Top 100 Elite Executives list.
Having one person named to the list from your company is a high honor, but it is more exciting when you have two. CommScope was honored to have both Eddie Edwards, chief executive officer, and Bruce McClelland, chief operating officer, receive this accolade (Bruce was named to the list as CEO of ARRIS prior to CommScope's acquisition).
Both men have worked tirelessly toward shaping the communication networks of the future. With the rise of 5G, smart cities, smart buildings and Internet of Things, CommScope is helping service providers deliver the connectivity their subscribers demand—when they want it and where they want it.
As service providers of all types prepare for an increasingly network-dependent world and the always-on generation, CommScope is ready to serve. All this wouldn't be possible without the leadership and guidance of people such as Edwards and McClelland.
In these videos, Edwards and McClelland explain what this accolade means to them and how they continue to lead CommScope into the future.
On behalf of everyone at CommScope, we congratulate Eddie and Bruce for being named to Cablefax's list of elite executives.