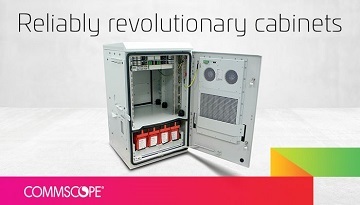 Most people like to organize the spaces around them in their own particular way. For example, is your work desk neat or covered in papers? Either way, it probably works well for you. How about your closet at home – are the most worn items on one side or shelf, or mixed together with others? Do you organize your smartphone so that the most used apps are on the home screen? How do you organize your refrigerator? I bet it's so that you can easily reach your favorite foods and drinks, while that seldom-used balsamic vinaigrette gets shoved to the back.
CLICK TO TWEET: CommScope's Jeff Epstein explains how Compact Modular Cabinets enables service providers to customize each cell site to their exact specifications.
Being able to organize things the way you want them makes good sense and often improves efficiency. The new Compact Modular Cabinet from CommScope is built around that premise.
It enables you to organize the cell site equipment you need in a way that suits you best. The Compact Modular Cabinet offers a wide range of selectable features, not only in rack space, but also in equipment configuration, power distribution, cooling options, and other factors. It has a variety of mounting solutions as well as cooling options for high-capacity thermal siphon. Additionally, it's unique modular and flexible design comes in the smallest footprint we've ever created.
CommScope has decades of experience designing and building virtually everything needed for cell sites, and the Compact Modular Cabinet enables you to customize each site to the exact specifications needed.
The Compact Modular Cabinet won't help you figure out where to put your shorts versus your socks, but it will put your thermal system, battery shelves, and power system where they're best suited.