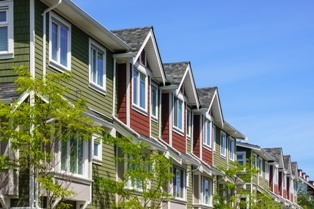 In part one of this series, I discussed the tradeoffs between hybrid fiber coax (HFC)/DOCSIS and FTTH, and the fact that MSOs are increasingly deploying FTTH to portions of their service areas. In this blog, I will discuss deployment challenges in FTTH networks.
FTTH networks broadly can be divided into two types with some distinct considerations for each:
Networks that support single-family units/homes (SFUs)
Networks that support multiple dwelling units (MDUs)
Fiber-to-the-MDU is of significant interest. US Census data says 17.3 percent of the US population lives in buildings with five or more units, and depending on the service provider's footprint, that number could be much higher. It also presents some unique challenges.
Brownfields
They are especially significant in existing deployments, or what is commonly called brownfield. Buildings may or may not have paths between floors for cabling; any existing pathway or conduit may be crowded. Minimizing the size of pathways needed can be critical. The amount of space available for telecom or cable equipment may be limited (or in older buildings, nonexistent); this drives a need for compact cables and enclosures. Speed is critical. Installation teams are not just occupying road or sidewalk space; they are actually inside a building owned by someone else, in the hallway or stairwell.
Greenfields
In greenfield deployments, or new deployments, bringing fiber to the network sounds conceptually easy. However, the deployment of fiber networks is not a first consideration for building designers, so flexibility and using limited pathway space is still important. Speed is important as well; builders will not tolerate any delays to their overall schedule due to cable deployment. One potential option for greenfields is particularly suited for spaces where the decision between HFC or fiber connectivity has yet to be made. CommScope's E2O hybrid coax/fiber cables are the perfect foundation. Once the cabling is installed, both coaxial and fiber connectivity will be available.
Speed is a common thread in all of the aforementioned scenarios. In addition to the speed of deploying to an individual building, the speed with which a service provider can deploy an upgraded network to a given area is critical. The sooner the network is available, the sooner customers can subscribe to an upgraded service and increase their average revenue per user (ARPU).
Other common factors include reducing the skill level required for installers, improving the modularity of the network, and reducing the amount of time and effort spent on planning. A fully connectorized solution reduces the required skill level, and improves network modularity, but it can lead to increased time spent planning as cable assemblies need to be ordered to exact lengths for connecting each floor and apartment. Conversely, the use of splices or a splice-on connector reduces the requirement for detailed planning, but means more demand for highly skilled (and costly) splicers, as well as a longer time to deploy.
CommScope addresses all of these needs with our solutions. First, the Rapid Fiber® family provides a fully connectorized solution that addresses the planning challenge by having slack storage for distribution and drop cables built into a reel in the terminal or wall plate. We have further built on this with new solutions that utilize fiber indexing to allow a fully modular terminal. By daisy-chaining indexed terminals together, providers can have a modular network that requires a minimum amount of planning, minimizes pathway requirements, and maximizes the speed of deployment. This allows service providers to reduce their costs, bring down disruption, deploy networks sooner and realize the increased ARPU they seek from their network upgrade.
While you can expect more challenges as you evolve your networks, you also can expect more from CommScope—more solutions, more expertise, more innovation. Leave a comment, and tell me how your MDU is coping with increased demand.