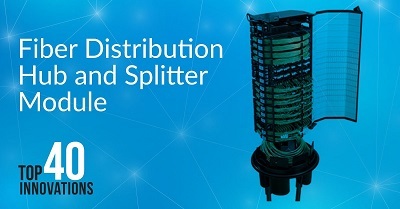 Note: As part of its 40th anniversary observance, the CommScope team set out to identify the top 40 innovations that have come from CommScope (or one of its acquired companies) over the past 40 years. We are unveiling the innovations chosen for the Top 40 on CommScope Blogs through early January. Read more about the overall program and selection process in this November 4 post.
We continue today with our unveiling of innovations—in alphabetical order—that are ranked 11-20. You can see a list of the Top 40 innovations already revealed on our 40th anniversary page. As our 40th anniversary year draws to a close, we hope you enjoy looking back at what we think are our top innovations—ones that have helped build the world's infrastructure of today and tomorrow.
Have an opinion about or connection to any of the innovations? Leave a comment below.
CommScope's Top 40 Innovations—Grouping 11-20
FDH and Splitters
Definition: An FDH is a fiber distribution hub -- a neighborhood-based, centralized component where the optical signal from the Central Office is split onto individual fibers to serve specific properties in the area.
Year of Innovation: 2003
What is the innovation that CommScope or one of its acquired companies was first in creating?
CommScope introduced its fiber distribution hub (FDH) in 2003 as fiber-to-the-home (FTTH) deployments were taking off among broadband providers. The development of the FDH was a key enabler for the growth of FTTH networks. The FDH is a neighborhood-based, centralized cabinet where the optical signal from the Central Office is split onto individual fibers to serve specific properties in the area. CommScope also offers splitters in various split ratios (1:8, 1:16, 1:32, for example), enabling provider technicians to choose the split ratio that matched their current subscribers' needs. As FTTH take rates grew, technicians could add splitters or change split ratios to meet the increased demand. Over time, CommScope rolled out pole-mounted, ground-mounted, and underground FDH products to address varying customer needs.
What was happening in the market that this innovation was needed?
The outside plant cross-connect cabinets that were used prior to the emergence of the FDH did not lend themselves to be properly configured for FTTH. These older cross-connect cabinets weren't placed as deeply in the network, and they used 1:1 connection ratios between fibers in the field and fibers in the Central Office. As a result, using cross-connects required providers to pre-deploy fiber and turn those fibers up with central office equipment before they had subscribers. This method filled the space in expensive optical line terminals (OLTs) and cards in the Central Office.
Before the FDH splitters appeared, splitters were spliced into the network haphazardly – there was no systematic way to deploy them, and providers needed to use splicing technicians with specialized expertise. This kind of splicing was time-consuming, labor-intensive and costly. The FDH was designed to be FTTH specific, providing a secure outside plant interface for fiber splitters and distribution. The FDH packages splitters in a form where they could be added inside the FDH at any time. Technicians could quickly swap out splitters inside the FDH as higher split ratios were needed.
How did this innovation benefit customers and the industry?
The FDH enabled customers to build out FTTH networks quicker and at lower cost because it uses a modular architecture and saves a lot of up-front capital expense. With the FDH, providers don't have to pre-assign dozens of fibers to a specific location because they can use splitters in the field to plug in the fibers they needed as subscribers signed up, rather than having dozens of dedicated fiber circuits serving each location in advance of subscriber uptake.
Did this innovation act as the springboard for other innovations, and if so, how do they all tie together?
The FDH has evolved over time. ADC, FONS and TE Connectivity had competing products, and CommScope acquired all of these product lines over time, incorporating innovations such as plug-and-play splitters, swing frames and underground FDH systems.
What is the significance of the innovation for CommScope?
CommScope, through its acquired companies, has been a long-term market leader in the FDH business. Being a key supplier to the major network providers during the explosive FTTH rollout provided a major source of revenue for CommScope's companies. Today, CommScope owns more than 25 patents on FDH technology.
Related links: