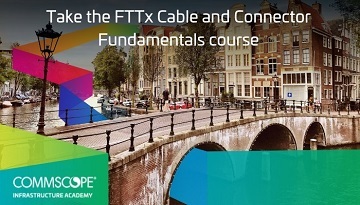 The optical fiber network infrastructures installed today will typically see four generations of transmission systems over the network's expected lifetime. As recent history has shown, the amount of data traffic these networks will carry will increase dramatically and continuously.
In principle, optical fibers offer a tremendous amount of potential transmission bandwidth or capacity. Maximizing transmission capacity requires optimized fiber designs and communication techniques, which have been developed during the past few decades in multiple steps.
CLICK TO TWEET: FTTx is pushing what's possible. CommScope's James Donovan blogs about fiber connectors and the Infrastructure Academy's course.
Networks are also built to last for decades and they need to support, without interruption or failure, increasingly heavy traffic at higher bandwidths. Some factors that contribute to the network's reliability and longevity include the need for good fiber/cable management and highly reliable connections throughout the network. That's why development of optimized fiber optic cabling and connectivity directly impacts operators' network considerations.
Modern single-mode optical fibers are designed to operate with wavelengths ranging from 1260 nanometers (nm) up to 1650 nm. Below 1260 nm, the fiber behaves as a multi-mode fiber, while above 1675 nm, the fiber glass material starts to absorb the light. Bends in the fiber cause an attenuation increase at the longer wavelengths (above 1550 nm).
When ITU-T G.657 bend insensitive fibers were introduced in fiber-to-the-home (FTTH) roll outs, attention to installation quality and management of fibers and cables seemed to disappear. At the time, it was assumed that using bend insensitive fibers in FTTH Passive Optical Network architectures meant that relaxed patch cord specifications and less fiber management were permissible.
Having "looser" specifications allowed operators to employ crews with lower technical skills in building out their FTTH network. Less-skilled crews, however, meant even greater attention must be given to selection of materials and to network architecture.
On top of that, many FTTH network business cases were calculated to have pay-back in shorter timeframes and focused primarily on initial costs. This resulted in reduced specifications (at 1310 nm and 1550 nm only) of optical fiber cables and optical connectors and reduced attention to installation practices (uncontrolled bends in stored fibers).
As pressure and expectations from both business and residential customers increases, technology must evolve. In recent years, standards and technologies have opened a wider portion of the fiber transmission spectrum to assure that networks are built to last, even when new transmission equipment or systems are added to the line.
Factors that contribute to reliability and longevity include the need for reliable connections and good fiber/cable management systems throughout the network. To survive and grow, operators need to build networks with an eye to future requirements – change will happen, that is certain. What form the change will take is less clear, but future use of a wider spectrum of wavelengths is a certainty.
Lessons from the past such as training crews to handle fiber properly, using solutions supporting correct cable management, using connectors with the right performance specification, provide both short- and long-term benefits to operators and customers alike.
To learn more about fiber optic cables and connectors, consider taking the WR9422 FTTx Cables and Connector Fundamentals course.
If you are involved in the design or installation of FTTx solutions and wish to improve your knowledge and working practices, this course is for you.