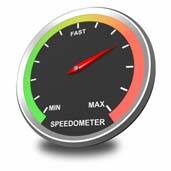 Consider the following typical scenario. Mom and Dad are in the family room after dinner. Mom is using video on-demand to catch up with TV programs she's recently missed while paying household bills using on-line banking. Dad is on his tablet checking sports scores and the stock market while returning emails. The kids are in their rooms watching cartoons on Netflix and gaming with friends. Take that typical scenario; multiply it by every household in the neighborhood and then the town.
The cumulative result is a lot of demand for bandwidth and data speed being placed on the regional broadband service provider.
You can think of broadband networks like a highway. Bandwidth can be thought of like highway lanes carrying streams of vehicles moving in parallel. More lanes means more traffic can be carried. Highways and broadband networks also have speed limits. The faster the speed the quicker the simultaneous streams of cars or data and video transmissions can reach their destinations. The combination of capacity and speed determine how many simultaneous users and what sorts of services a broadband network can support.
People using broadband service in a given area tend to want to access the capacity at common times. When referring to traffic we talk about rush hour as the period of highest usage. The term in network capacity planning is peak period. The challenge for service providers is to give the consumer the fastest speeds and greatest bandwidth during the peak periods of common demand. Planning for that peak period capacity is an ever more difficult task considering the increasing and varied demands on the network by users.
The Federal Communications Commission (FCC) in the United States issues periodic reports on the status of broadband service in the country. The latest report shows a couple of interesting facts. First, the FCC determined that the recommended minimum speed for High Definition streaming video and on-line learning is 4 Megabits per second (Mbps). That is also the minimum recommendation for two way on-line gaming. At speeds below these levels the quality of service starts to make the user experience less than ideal; however, remember the highway analogy. In a given network area demand by users for multiple data and video services all running at the same time creates a need for greater bandwidth to assure minimum peak speed requirements are satisfied. Another interesting fact presented in the FCC data is that, in 2012, 67 percent of households in the U.S. were using broadband service with maximum sustainable peak speeds less than or equal to 3 Mbps. The problem is evident, while service providers are scrambling to deploy technology to increase speed and bandwidth the demand only continues to increase.
The solution for many broadband service providers is to leapfrog the demand and deploy one of a number of technologies using fiber as the path to the subscriber. Fiber-to-the-home, FTTx or business services can provide upload and download speeds of up to 1 Gigabit per second, hundreds of times faster than the average service speed used by most U.S.subscribers. As a demonstration of the rapid rise in the use of fiber to provide broadband residential service, the Fiber to the Home Council recently reported that the number of households now passed by fiber broadband lines in North America is up more than 17 percent year over year with total homes passed equal to 22.6 million across the region. That's a great start, but if you consider there are more than 120 million households in the U.S. alone you see the challenge facing the industry.
CommScope is working with broadband service providers to identify ways to make the deployment of fiber to the subscriber faster and less expensive. To support transmission of optical signals CommScope offers PON and RFOG networking equipment. For outside plant we have developed products like E2O™ (Electrical to Optical) which combines various configurations of coax, fiber and microducts in a single sheath allowing a service provider to install a cable today and have fiber or a microduct for blowing in additional fiber as it's needed in the future. We have introduced microfiber cables which are smaller while having the same glass capacity of larger stranded loose tube cables and can be quickly blown or jetted in to the smaller microducts. Additionally, we are working on hybrid designs of drop coaxial cable with a fiber preinstalled in the dielectric. This E2O drop cable design means that switching over to fiber when servicing a subscriber does not require removing and re-pulling cable, simply swapping the terminations while adding optical taps and terminating units. In recent field trials of E2O products we have demonstrated savings of 20 percent or more in the overall cost of deploying fiber in comparison to installing a dedicated fiber plant as an overlay to an existing HFC plant or simultaneously deploying two cables.
For broadband operators the need to extend networks to support business services is equal in importance to increasing speed and capacity. Providing video and data services to small and medium size businesses and Metro Ethernet service for wireless backhaul is the fastest growing revenue stream for most cable operators. Using E2O architecture for the outside plant network allows the operator to adopt an efficient network evolution strategy. Rather than retiring, replacing, and reclaiming their HFC plant and flash cutting to fiber to service business subscribers they can choose a more gradual migration. E2O makes it easier to run HFC while adding PON and Metro Ethernet services when and where needed. Once they have migrated to optical the operator can then utilize the legacy coax plant to power remote nodes and other advanced network equipment. A true win-win on current and future cost savings.
The demand for bandwidth and speed is growing whether you're serving new or traditional subscribers. Fiber is a secure and increasingly common way to serve the need for broadband operators. A technology like E2O increases the flexibility of the network making it less expensive to deploy fiber today and to create a clear evolution strategy for adding or migrating to advanced optical network services.