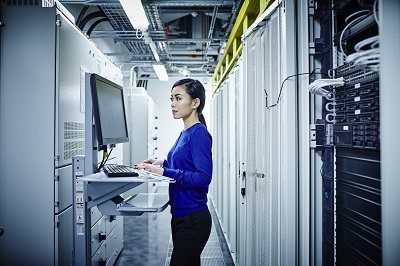 Data center needs are always changing. Managers can align their data center capacity by either choosing to stay with their own onsite capacity or migrating all of their applications to a public, shared cloud. Some may choose to rent space in a multi tenant data center (MTDC), moving away from their own facilities entirely. So how do managers decide when and how to evolve their data centers?
On-Site Data Centers
In this scenario, managers control their data center at their own location. An on-site data center improves efficiencies for some business needs. Of course, it also carries maintenance requirements. With no crystal ball as to what will happen in the future, it is more difficult to scale this investment up or down: guess wrong, and the cost of this alternative can be much higher than other choices.
There are a couple of different reasons why companies choose to own their own data centers. For example, some companies have static requirements and perform a significant amount of processing on an ongoing basis, and they have invested in the data center capacity to do that. Over time, they might make changes to the data center, but it ends up being more expensive to go into a leased facility or into the cloud unless there's a good reason to do it, such as changes in operations or technology.
SEE ALSO: "The Connected and Efficient Data Center" eBook
Cloud Computing
From the enterprise perspective, the trend definitely appears to be toward increasing the use of cloud over time. Private and public cloud environments differ in several ways. When a company chooses a private cloud environment, the company has the benefit of absolute control. Internal operating costs may be much less than the monthly charges from using a public cloud depending on the way the data center services are used.
The public cloud is a rental environment that offers much of the same facilities we see in private cloud. Public cloud moves companies completely out of the infrastructure business, and it might offer better security than small or mid-sized enterprises can manage on their own.
Multi tenant Data Centers
MTDCs offer the ability to pay for infrastructure as a utility rather than running it in your on-premise environment. Even complex enterprise resource planning environments with millions of dollars tied up in customization might not justify building and owning a private data center. In this case, it may make sense to move into a hosted facility and buy space, power, cooling and connectivity from the MTDC. And, since it is commonplace for major public cloud, service and content providers to also have a presence in MTDCs, enterprises can connect directly to them. This can significantly reduce latency and improve the user experience, and simplify their planning by having their public and private clouds, and carrier connectivity, under a single roof.
Choosing models
In the end, different companies have different needs, and they use different data center models to meet them. There are several alternatives available today. You can customize the investment strategy and migration path to implement a combination of hardware/software approaches. So, what's your choice? Tell us in the comments below.