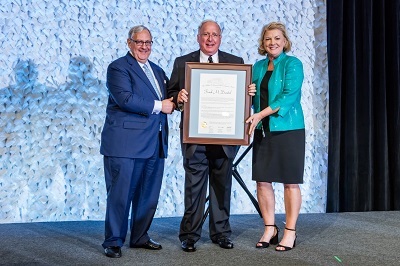 If you know CommScope, then you know the name Frank Drendel. If you've spoken with Frank, then you know he believes in one thing: "Nothing sells like the truth."
That has been Frank's mantra since he founded CommScope more than 40 years ago. It served him and the company well. It is his belief in honesty that helped him grow CommScope from the fledgling cable manufacturing company he founded in 1976 to a global leader in infrastructure solutions for communications networks. CommScope now helps companies around the world design, build and manage their wired and wireless networks.
Through his work at CommScope, he became one of the biggest champions and promoters of the cable television industry. Along the way, Frank received numerous prestigious honors for his contributions to the industry, including:
An Emmy Award for Outstanding Achievement in Engineering Development in 1985 for his and M/A-Com Corporation's (of which CommScope was a subsidiary) contribution to anti-pirating satellite TV encryption and scrambling technology.
The Order of the Long Leaf Pine, the highest civilian award given by the State of North Carolina, in 1999.
Induction into the Cable Center Hall of Fame, the cable television industry's highest honor, in 2002.
The 2013 North Carolina Technology Association Outstanding Achievement Award.
Throughout his years of service, one thing Frank never compromised was his ethics, and that is why the Cable Center presented him with the 2017 Bresnan Ethics in Business Award.
The award honors the late William J. Bresnan, founder and chairman of Bresnan Communications and longtime chairman of the board of The Cable Center. The Bresnan Ethics in Business award was created to honor outstanding men and women in the cable industry who best exemplify Bill Bresnan's longstanding commitment to ethics in business.
Awardees represent the ideals upheld by Bill Bresnan, including continually demonstrating ethical leadership qualities, doing what's right in the face of adversity, even when it is unpopular, incorporating doing what's right in everyday life, and demonstrating societal, community and philanthropic engagement.
Frank was presented this accolade during the 20th annual Cable Hall of Fame celebration on April 26 at the Grand Hyatt Washington in Washington, D.C.
"It is an honor to be named this year's award recipient," said Frank. "Bill served as the best example of what ethics in business should be, and it is with great appreciation that I am being recognized with this award in his honor."
As he prepared to receive his Cable Center honor, we asked Frank to share some stories about CommScope's history and what Bill Bresnan meant to him. Some of Frank's fellow employees also provided some insight into the man and shared a few stories.
On behalf of the CommScope team and all those who have benefited from your work, congratulations Frank!