It's no shock to say that technology moves quickly. It seems only yesterday that all those America Online trial disks were filling up my mailbox and my trash can. Now, people are surfing the net on their phones and on portable devices everywhere you go.
For my company, it is important to keep pace with the ever changing technology landscape to provide our clients with reliable solutions for their enterprise and wireless needs. To help us learn what is most relevant, CommScope conducts a survey every three years, which helps gauge the latest trends in IT and takes a look back at how much IT has evolved over the years.
CommScope recently released results of the 2013 Global Enterprise Survey. This seventh edition of the survey asked IT managers and professionals around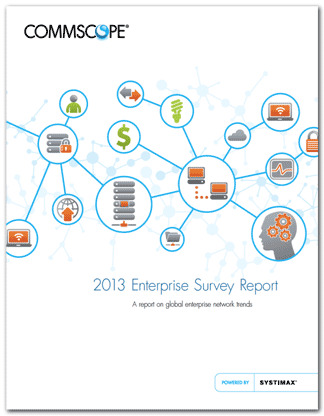 the world to share their thoughts on the most significant trends and technologies currently changing how we view enterprise IT. We've seen a lot of changes in IT since the first edition of the survey came out. For example, in 1994:


A data center could only fit in your closet, but today it can sit in a cloud. Back then, 100Mb/s was considered blazing fast whereas today's data rates have a few extra zeros on the end and continue to climb


Local area networks were becoming a bright idea and only one in 10 people in theUnited States had a cell phone. Now everyone has one or more


We were moving away from "bag phones" and "brick phones" to smaller handheld units with the second generation of mobile phone systems


"Green" was just a color. In 2012, intelligent infrastructure management and DCIM are the next bright ideas and "green" is a defined strategy affecting the operating fundamentals of an enterprise



These are just a few examples of the ever-changing IT landscape. The CommScope Global Enterprise Survey helps us keep a finger on the pulse of the industry, by giving our customers yet another voice that elevates our collective preparedness for a better future in network infrastructure.

With 1104 responses from 63 countries, this year's report explores five game-changing trends ranked in order of importance by the respondents.


Enterprise mobility


Cloud services


40GbE and 100GbE


Infrastructure intelligence


Green, reliable power



These game-changing trends make the IT world a dynamic place to live and work today. Despite so much change over the past two decades, IT professionals around the world still value quality, price, and performance along with these game-changing trends.

What do you think will be the next game-changer?

Download a copy of the 2013 Enterprise Survey Report here: Game-changers: the trends and technologies that rewrite the rulebooks.