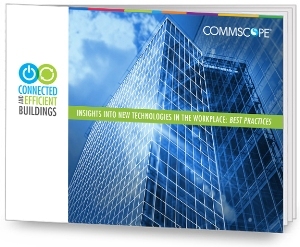 The workplace is undergoing dramatic changes, moving from a place for employees to come to work to one that fosters collaboration and maximizes productivity and the use of building resources.
Recently, I attended the CoRE TECH 2015 conference in Santa Clara and learned about how new technology and innovations can help corporate real estate and facilities managers get the most out of their properties.
Topics ranged from near term projects such as moving to smart lighting, to looking at the impact of longer-term technologies such as autonomous vehicles.
The thought of not having to manage large asphalt parking lots, and a day when people traveled to and from work in driver-less cars, was appealing to many attendees.
At CommScope, we are developing and working on technologies that can transform the workplace into a highly efficient, productive environment that many corporations envision.
To assist in this transformation, we have published the Connected and Efficient Building eBook, which provides guidance and best practices on implementing innovative technologies in the workplace.
The ebook is available free of charge and contains insights by many of our industry experts. The book covers various topics including:
Preparing for and benefiting from the Internet of Things in the building
Providing a wired and wireless infrastructure and ensuring both are available throughout the building
Implementing new technologies, such as smart LED lighting, in parallel with other building intelligence applications
Deploying automated infrastructure management systems to ensure the IT and facilities networks can be managed from a single platform
Ensuring that wireless service, both Wi-Fi and cellular, is available and upgradable to meet building occupants' needs
Planning for a low-voltage infrastructure in the ceiling that is capable of supporting an ever-growing number of applications
Be sure to stay tuned for an upcoming blog series where each of our authors will talk specifically about sections of the ebook.

If you have any questions about the book or would like to provide you initial reviews, feel free to leave a comment below.