T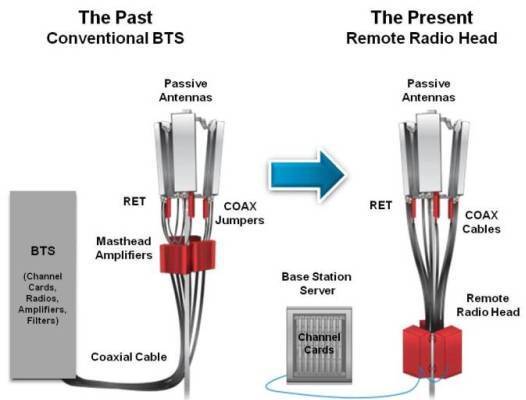 here are several key factors driving the evolution of cell site architectures. The primary driver is the increasing demand for bandwidth and capacity. This demand is addressed by several things:
New radio technologies like High Speed Packet Access (HSPA) and Long Term Evolution (LTE)
Deployment of new frequency bands for cellular radio transmission
The increase in the number of carriers and channels (bandwidth)
While new 3G and 4G technologies like HSPA+ and LTE are introduced, there is also a need to continue to support legacy technologies like Global System for Mobile (GSM) communications and Code Division Multiple Access (CDMA) for the foreseeable future. Consequently, radio networks are being required to support multiple technologies in multiple frequency bands simultaneously such as:
UMTS (Universal Mobile Telecommunications System)
WiMAX
GSM
LTE
CDMA
Therefore, there is a growing need to integrate these electronics and hardware in a typical base-station antenna to minimize site footprint and lower costs.
During the last 10 years, cell site architectures have evolved from the legacy architecture where large radios are located remote from the antennas, to an architecture wherein a separate RF portion of the radio can be located more closely to the antenna. This separation of the digital radio (base band unit [BBU]) from the analog radio remote radio head (RRH), at the site, allows for equipment reduction and a more efficient network operation. A digital fiber optic link provides the connection between the BBU and RRH, now referred to as fiber-to-the-antenna (FTTA).
Traditional design of cellular installations—antenna towers and their adjacent base stations—places the transmitting and receiving components in climate-controlled cabinets or shelters, connected to the antenna via coaxial cable.
As cellular technology has grown more sophisticated in the ways voice and data are managed across the network, the overall power requirements for base stations have inched steadily downward. At the same time, advancements in amplifier technology have increased power efficiency for these stations, resulting in fewer power stages required in a given base station. And of course, network providers and service operators have always sought inexpensive ways to deliver quality connectivity to their customers.
The new thinking in base station design, embodied in the RRH, reflects the emerging realities that drive all of these trends, improving efficiency and reducing operational costs. The difference is in the "distributed base station" concept, separating the base band signal processing unit (BBU) from the RF front-end equipment, collectively called the RRH.
Learn more about these technologies at the CommScope Infrastructure Academy. TheSP6000looks at the complete RF Path, while the SP6920 focuses on advanced antenna technology and the SP6170 course covers FTTA. This is a great way to get CommScope-certified today. If you have any questions, please use the comment section below.