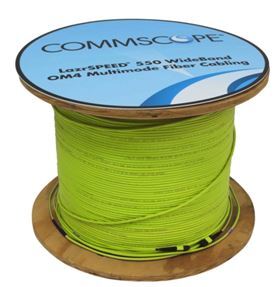 Up until very recently, wide band multimode fiber (WBMMF) didn't really have a definition – at least one that was widely recognized. Now, after 20 months, six face-to-face meetings, 13 teleconferences and three ballots, the Telecommunications Industry Association (TIA) published in June a new fiber specification that defines WBMMF. It's the first multimode fiber specified to support short wavelength division multiplexing (SWDM) by delivering laser-optimized modal bandwidth from 840 to 953 nanometers. That means WBMMF can support all legacy applications and is optimized for emerging SWDM applications.
Already the standard (TIA-492AAAE) is being referenced in active projects within the Institute of Electrical and Electronics Engineers (IEEE) 802.3 working group for next-generation Ethernet. For example, Foxconn Interconnect Technology has proposed a solution that would deliver 100 Gigabit per second (Gb/s) Ethernet over two multimode fibers, one for transmit and the other for receive, using two wavelengths each carrying 50 Gb/s. The wavelengths are within the spectral range for which WBMMF is optimized. Thus this proposal uses SWDM to reduce the number of fibers to just two compared to the eight needed to support parallel transmission of 100GBASE-SR4.
SEE ALSO: Video of LazrSPEED by CommScope
The proposal stated the solution could support a reach of 70 meters on OM3, 100 m on OM4, and 150 m on WBMMF cabling. This serves to illustrate the optimization that WBMMF offers. Not only can WBMMF increase reach by 50 percent compared to OM4, it more than doubles the reach of OM3. That extra reach is often appreciated by customers who can use that capability to serve the longest spans within their data centers, or trade it to support more connections in their channels.
Internationally, the International Electrotechnical Commission (IEC) initiated a project to define WBMMF in April. And already the IEC 86A subcommittee on fibers and cables has released its first ballot containing WBMMF specifications harmonized with TIA-492AAAE. Harmonization comes as no surprise to those in the trenches, as several fiber makers from the around the globe participated in the TIA effort.
TIA is also in the final stages of approving a revision of the optical fiber structured cabling and components standard known as ANSI/TIA-568.3-D. The revision advances optical fiber cabling requirements on several fronts, one of which is the approval of cabling made with WBMMF. Look for its publication this fall.
As you can tell, the past months have seen large advancements in the state of WBMMF and the SWDM applications for which it is optimized. CommScope looks forward to completing the standardization work by contributing to all of these standards efforts.
In the meantime, let's talk. With the new definition, we'd love to hear your questions or comments on WBMMF and SWDM initiatives.