Note: As part of its 40th anniversary observance, the CommScope team set out to identify the top 40 innovations that have come from CommScope (or one of its acquired companies) over the past 40 years. We are unveiling the innovations chosen for the Top 40 on CommScope Blogs through early January. Read more about the overall program and selection process in this November 4 post. Today, we complete the unveiling—in alphabetical order—for Innovations 21-40 on the list. (The remainder of the 21-40 group were disclosed Monday and Wednesday.) You can see a full list of Innovations 21-40 on our 40th anniversary page. As our 40th anniversary year draws to a close, we hope you enjoy looking back at what we think are our top innovations—ones that have helped build the world's infrastructure of today and tomorrow.
Have an opinion about or connection to any of the innovations? Leave a comment below.
CommScope's Top 40 Innovations--Grouping 21-40 (part 3)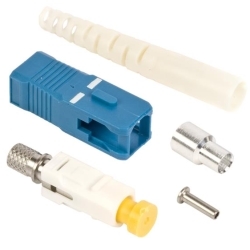 Singlemode connector advancements
Year of Innovation: 2008
This Dual ID ferrule project improved the interface between fiber optic cables and connectors to reduce fiber breakage, especially due to thermal stress. The Dual ID ferrule solved a failure repeatedly seen in environmental qualification tests. Fibers were breaking in high humidity environments because standard ferrules had a design that could damage fibers during insertion. Developed by ADC (now part of CommScope), the Dual ID ferrule prevents this fiber damage and eliminated testing failures. The Dual ID ferrule provides a high degree of reliability to products deployed in outside plant FTTX networks, which deploy millions of connectors in uncontrolled environments, making connector reliability critical in network reliability. Also contributing to connector reliability are the patented ferrule anti-rotation geometries used in conjunction with Dual ID ferrules. Angled connector ferrules are highly sensitive to very small rotations. Rotations as small at 0.5° can result in loss of fiber physical contact, which would affect network provider service delivery. Our connector anti-rotation features basically eliminate ferrule rotation and add to the high reliability of connectors in the outdoor network.
Smart Cell
Year of Innovation: 1994
Smart Cell enabled the use of the same mobile phone for public and private networks. It represented the first implementation of a base station by a CommScope company. It is believed to have been one of the first wireless products for the enterprise, enabling companies to install wireless communication in their premises without the requirement for a different handset than used outside of the premises.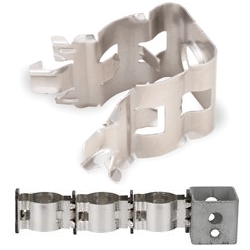 SnapStak hanger
Year of Innovation: 1999
SnapStak hangers are stackable, snap-in coaxial cable hangers that are easy to use, reducing installation time and cost. When cellular network builds picked up steam in the late 1990s, towers were getting too full to handle more cables on the tower face. Development of this hanger by Andrew Corporation (now part of CommScope) allowed cables to be stacked vertically, which increased cable capacity on the tower and changed the installation paradigm in the industry. Stackable up to three deep when securing thinner cables, these innovative hangers feature retention tabs on the spring fork, which holds cables in place yet yields to tower movements and absorbs vibrations. Made from stainless steel, SnapStak provide exceptional reliability and durability, even in the most corrosive environments or punishing weather conditions. It became the predominant cable hanging solution in the wireless industry. Andrew, CommScope and its licensed partners have sold millions of these hangers since their release.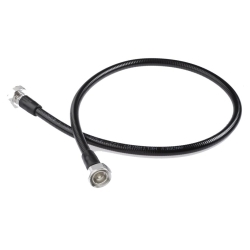 SureFlex coax jumpers
Year of Innovation: 1998
SureFlex coax jumpers are manufactured using a patented process that utilizes a 360-degree lead-free solder joint to physically bond the connector to the jumper. This highly controlled manufacturing process produces a premium cable assembly that delivers higher RF performance, consistent reliability and outstanding durability. Each assembly is individually tested and guaranteed for exceptional electrical performance and superior weather resistance. And because SureFlex cable assemblies are premanufactured, they arrive on-site ready to go, saving valuable time and potential connection error. The SureFlex process, developed by Andrew Corporation, is used on all CommScope cable assemblies and for nearly two decades has been recognized as a leading product for RF performance in the wireless industry. As focus in the industry has moved towards high PIM performance products, so has the SureFlex process with the introduction of new IP in 2013 and the recent release of the industry's first D-Class (Dynamic PIM) rated cable assembly products.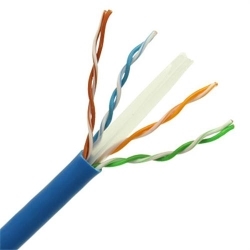 Tightly Twisted LAN cables
Year of Innovation: 1987-1988
Nearly 30 years ago, an innovative group of cable designers within the copper cabling division of AT&T (now part of CommScope) discovered that twisting conductors together very tightly would maintain the mechanical helical structure and minimize conductor nesting in cables. This dramatically improved the level of isolation between the pairs without necessitating shielding. The unshielded twisted pair cables became known as "data grade UTP" and were standardized as Category 5e in global standards for use in local area networks (LAN) and other applications. Our cable designers and manufacturing teams have continually advanced twisted pair technology to support ever higher data rates.
Twisted Pair Cable Modulation
Year of Innovation: 2003
As transmission rate objectives on twisted pair cables continued to increase, the coupling between pairs in adjacent unshielded cables became the critical new impairment. CommScope engineers discovered that adding modulation to the twist and strand of a cable along its length would break up systematic coupling patterns and thereby dramatically reduce the cable-to-cable coupling or alien crosstalk. Precisely controlled modulation improves the alien crosstalk while preserving and even improving other electrical parameters. This patented technology was instrumental to extend the data rate capacity of unshielded twisted pair cables from 1 to 10 Gigabits per second for lengths up to 100 meters. Modulation technology has also been extended to other twisted pair cables in our global factories enabling reduced size, complexity and cost compared with competitive products.